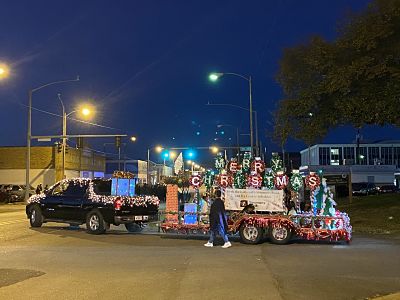 In light of the holiday season, the city of Pine Bluff and Go Forward Pine Bluff hosted its annual Christmas Parade on Thursday, December 2nd on Main St. downtown. The parade featured Mayor Shirley Washington, the Sahara Shriner Temple, Southeast Arkansas College, Jefferson Regional, The University of Arkansas at Pine Bluff, and the Pine Bluff Fire Department to name a few.
The parade also featured a contest for the best-decorated float and GFPB CEO Ryan Watley will be announcing the winner on The Oldies 101.3 Morning Show Monday, December 6th.
On a similar topic, The Pine Bluff Fire Department is also participating in spreading holiday cheer during the season with their annual Santa Run that started November 29th and lasts until December 24th. The Santa Run is hosted by the PBFD and Carrington Electric Company of Pine Bluff, who contribute the lights and decorate the truck. PBFD also stated that with the help of Stereo Junction, they play a sound system as they drive throughout the local neighborhoods from 5:00 pm to 8:00 pm.
Lieutenant Larry Murray spoke with Deltaplex News and talked more about Santa Run.
After being asked how they made time throughout the day to dedicate this to the community Murray explained the community enjoys it.
The PBFD also provided a route schedule so that the public knows when to expect the Santa Run in their area. (That schedule link is also featured in this story.) In case you miss them, Murray explained the neutral locations that they will be throughout the day.
Santa Run Schedule: