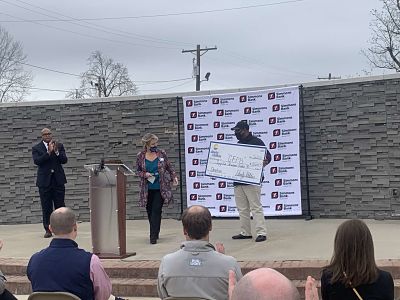 The City of Pine Bluff, Simmons Bank, Go Forward Pine Bluff, Pine Bluff Housing Authority, Pine Bluff Urban Renewal Agency, United Way of Southeast Arkansas, Liberty Utilities, and Relyance Bank have formed a coalition that was announced at a special ceremony on Tuesday, January 19th. This coalition is in response to research sponsored by the Winthrop Rockefeller Foundation on ALICE (Asset Limited, Income Constrained, yet Employed) Families to provide 100% financing over a 30-year term through Simmons Bank.
CEO of GFPB Dr. Ryan Watley spoke to the community to further explain ALICE and how families in Jefferson County are impacted by this subset.
Watley is also quoted in a press release from Simmons Bank stating, "More specific to the City of Pine Bluff, Simmons Bank has committed two million dollars and developed a 97% financing option over 30 years to help revitalize one of Pine Bluff's most investment deprived areas. The area is geographically bound South: 34th Avenue, North: 17th Avenue, East: Olive Street, and West: Hazel Street. This area was selected to spur investments across the mix of low-, moderate- and medium-income census tracts in the footprint. The economic diversity potentially helps all achieve a more equitable position at a faster rate."
As part of the 97% advantage, Go Forward Pine Bluff successfully raised $300,000, of which $65,000 was provided by Liberty Utilities and United Way of Southeast Arkansas, to start a down payment and closing cost assistance loan fund. Go Forward Pine Bluff will offer the remaining 3% financing provided homeowners agree to join the newly formed Pine Bluff Homeowner's Association.
Leslie Dorn was present at the announcement and spoke to Deltaplex more about the funds that they provided with Liberty Utilities and how this will impact ALICE families in Jefferson County and Pine Bluff.
In relation to the 97% advantage area, Mayor Shirley Washington announced at the ceremony," My office will advance legislation to the Pine Bluff City Council that will activate the Neighborhood Enhancement Act. Legislative approval will allow the City to provide homeowners or developers up to 20 percent of the cost for new construction or rehabilitation of a home in the targeted 97% advantage area. The agreement requires that homeowners live in the area for at least five years." said Washington.
Martie North, Senior Vice President and Director of community affairs and community reinvestment act at Simmons Bank spoke with Deltaplex News about how homeownership will enhance economic mobility in the community.
After being asked about future ideas that Simmons Bank could implement within the community to further add to enhancing the community in other areas that relate to homeownership, North responded.