From The Desk of Your AD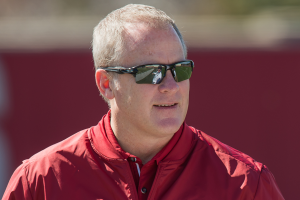 Hello Fellow Razorbacks!
I greet you today on what is the anniversary of a special day for me both personally and professionally. A year ago, December 6, 2017, I joined Chancellor Joseph Steinmetz on stage in the Fowler Family Baseball and Track Training Center for my introductory press conference as your vice chancellor and director of athletics.
Earlier that morning, before the press conference, I awoke for the first time in Northwest Arkansas. I had taken the job without visiting the University of Arkansas. What I knew and had heard about the University of Arkansas and the Home of the Razorbacks made me confident in accepting this extraordinary offer. A year later, I can confirm it was and continues to be a tremendous opportunity. I have made a lot of decisions in my career in intercollegiate athletics, coming to the University of Arkansas is clearly the best decision I have ever made.
I am honored to be a part of an athletics program that is one of the most successful in the nation, a university that is respected among its peers and a state that continues to shape the world. But most of all, my family and I are privileged to be among those who make up the Razorback Family. I am grateful to our student-athletes, our coaches and staff, our Razorback Foundation members, season ticket holders and fans throughout our state and beyond. Thank you for your support of the Razorbacks and for your warm welcome to Arkansas!
Moving Forward
Even as I pause momentarily to reflect on the past year, I am focused on and excited about the future of our program. In the past month, we have taken major steps toward new and renovated facilities for our national championship contending baseball and track and field programs.
Last month, our Board of Trustees approved us to move forward with the construction of a Baseball Performance Center, a renovation and expansion of the Randal Tyson Indoor Track Center and the construction of a Track and Field High Performance Center at John McDonnell Field. The Board also approved the selection of architect/engineer design and construction manager/general contractor teams for the facilities.
Thanks to the generosity of two of our state's most influential families, we are already well on the way to funding two of these projects. The names of those benefactors are certainly familiar to Razorback fans.
The Willard and Pat Walker Family has been an integral part of the Razorback Baseball program for decades. In fact, it was a lead gift from the Walkers that changed plans for a renovated George Cole Field into the construction of a brand new Baum Stadium. More than 20 years later, the charitable foundation bearing their name has stepped forward once again to help provide Coach Dave Van Horn and our baseball student-athletes a facility that will rival any in the nation.
Similarly, the Tyson Family has become synonymous with Razorback Track and Field. When Arkansas needed a new indoor track and field facility, the Tyson Family stepped forward to build the best indoor facility in the country. Since its debut in 2000, the Randal Tyson Track Center has been home to 20 combined SEC and NCAA Championships. With its most recent signature gift for the renovation and expansion of the Randal Tyson Center, the Tyson Family has ensured that Fayetteville will remain the indoor track and field capital of the world.
Thanking the Razorback Nation
As we near the end of the fall semester, I want to take an opportunity to thank the Razorback Nation for its support at both Donald W. Reynolds Razorback Stadium and War Memorial Stadium during the 2018 football season. Although our program has benefitted from a tremendous following throughout our history, we will never take the passionate support of our fans for granted. Your loyal support is greatly appreciated!
Wild Band of Razorbacks
One of the special moments of the past football season was the dedication of the Wild Band of Razorbacks Monument. This new iconic piece of art located on the northeast corner of Donald W. Reynolds Razorback Stadium is truly breathtaking. Artist Dick Idol successfully captured the origin of our unique nickname and the deep passion of our state.
As I have had the opportunity to travel throughout Arkansas, I have learned that in addition to our love for the Razorbacks – our state is defined by the natural beauty that surrounds us. No matter what corner of the state you are in – the breathtaking landscape is something we share.
Weaving through our state – are hundreds of bodies of water including the Arkansas and Mississippi rivers, the Ouachita and Red Rivers, the St. Francis and the White and countless other lakes, streams and reservoirs. These bodies of water all are unique and help define their own part of our region – but collectively they help connect us and contribute to the vibrancy of Arkansas.
So what better way to pay homage to two of our state's most defining characteristics than to bring samples of water from throughout the state to add to the more than 13,000 gallons of water flowing from the mountain of this picturesque monument?
I hope you will join us in this budding tradition. Next time you are on campus, stop by the monument, add a bit of water from your region of Arkansas and share it with us on social media using #RazorbackMonument.
Holiday Hoops
As we head into the Holidays, make sure you mark your calendar for some Razorback Basketball. Both our men's and women's teams are exciting to watch and have gotten off to hot starts this season. Bud Walton Arena is a great place to watch college basketball and with SEC season approaching we need all Razorback fans to help us give these young teams a homecourt advantage. For upcoming opportunities to catch the men's or women's teams at home, click on the schedules below.
Couple of Other Tidbits
Earlier this week, I had the opportunity to attend a pair of Arkansas based college football award ceremonies for the first time. On Monday, I was in attendance for the Burlsworth Trophy in Springdale, as Clemson's Hunter Renfrow won the award for the nation's most outstanding player who began his career as a walk-on. On Tuesday, I traveled to Little Rock to experience the Broyles Award, an honor that goes to the nation's top assistant coach. Alabama's Mike Locksley won the award, one day before he was named the head football coach at Maryland. These awards are not just fitting tributes to two Razorback legends, they help raise much needed support and awareness for those in need. I encourage you to learn more about these two great awards and the organizations that are making a difference in the lives of so many.
As I have shared before, Our Vision is To Be the Best! Last Thursday night, I had an opportunity to honor a group of young women who achieved that vision last spring at the SEC Women's Golf Championships. After a special dinner at The Blessings Golf Club, I helped out hand out SEC Championship rings to Coach Shauna Taylor and our student-athletes. It was a special night as we celebrated the first SEC women's golf championship in school history.
Snout Outs
Before we wrap up this holiday edition of From the Desk of Your AD, I want to offer some congratulations to some current and former Razorbacks who have made some news recently.
Not long ago, our women's soccer program had never been to an NCAA Tournament. Coach Colby Hale changed that and now the Razorbacks are a perennial NCAA Tournament team. After hosting and winning in only our second NCAA First Round match in school history, our team battled to a scoreless stalemate with Virginia Tech in regulation before the Hokies won a 1-0 decision in overtime. Congratulations to the young women on our soccer team for an outstanding season!
Congratulations are also in order for Razorback men's basketball legend Sidney Moncrief. Hours after our men's basketball team defeated Indiana at Bud Walton Arena, a group from the University of Arkansas, including Coach Mike Anderson and Sidney's former assistant coach Pat Foster, joined me in traveling to Kansas City to honor Super Sid on his induction. We look forward to recognizing Sidney at Bud Walton Arena in January for this tremendous honor.
When it comes to college football legends, Darren McFadden is among an elite class. Last Friday, Darren was honored as a SEC Football Legend at a banquet held in Atlanta prior to the 2018 SEC Football Championship Game. Congratulations to D-Mac on this very deserving recognition.
In closing, I want to wish you and your loved ones a wonderful holiday season. I am thankful for each of you and for the many blessings my wife Jennifer, my sons Ryan, Jake and Brooks and I have received as a result of being a part of the Razorback Family.
Go Hogs!
Hunter