From Razorback To Rocket Scientist To Olympic Hopeful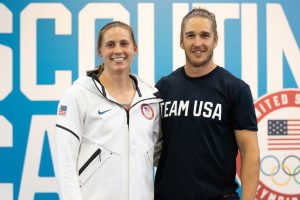 FAYETTEVILLE, Ark. — Lindsey Mayo (2012-16) was part of a lot of firsts with the Arkansas soccer team. She was part of the first Razorback team to make the NCAA Tournament, the first to host an NCAA Tournament game, the first to win 15 or more matches in a single season, and she played in more games (91) than any other Razorback in program history.
However, there's another first that Mayo is shooting for now and that's to be the first Razorback soccer player to compete in the Olympics.
Mayo was one of eight men and women to earn a spot on a Team USA roster in season 2 of "NBC's Scouting Camp: The Next Olympic Hopeful." She was selected by the Team USA Rugby coaching staff and will begin training immediately for the 2020 Olympics in Tokyo.
In its 33-year history, Arkansas Soccer has never had one of its players, current or former, compete on the world's stage in soccer or another sport. However, Arkansas has been represented well in previous Olympics in track and golf. Now, Mayo wants to add her name to that list.
"I'm a sports junkie," Mayo said. "I'll watch any and every sport that's on TV, so the Olympics is always the best time to watch. It's all sports non-stop. Plus, I really admire the athletes and all they have gone through to be successful and get to their elite level of competition."
Over three days, Mayo went through a rigorous training camp, which she said was "exhausting." From squats to pull-ups, sprints, jumps and agility tests, Mayo was monitored by eight coaches in eight different Olympic sports ranging from weightlifting, canoe/kayak, boxing, skeleton, rowing, track cycling, rugby and bobsled.
"As far as intensity, it was pretty intense physically," she said. "We were asked to do a lot in a short period of time and you really had to be smart about the way you treated your body to be able to perform your best for each test on such short rest. The people were amazing. The coaches were extremely helpful and understanding of the athletes as we were crossing and trying sports that some of us have never even heard of before. So even though it was very intense and taxing, we really got through it as one big family, which was amazing to experience."
Since graduating from the U of A in the spring of 2017 with a degree in chemical engineering, Mayo has been working as a Thermal Engineer/Analyst for Boeing in Huntsville, Alabama. In short, Mayo is a rocket scientist, a job she never expected to have when going through school.
"It's definitely unique to be able to actually say 'I'm a rocket scientist.' If you asked me what I would be doing while I was in school, this would not have been it. I didn't see it coming."
Mayo was one of the first classes to play under current head coach Colby Hale for four years and helped rejuvenate the Razorback program into a national contender that is respected across the soccer world. In her sophomore year (2013), she helped lead Arkansas to its first NCAA Tournament appearance and reached the Sweet 16 in the same season.
There were two more NCAA Tournament appearances after that including hosting the NCAA First Round match in 2016 against Memphis, a game that she hit the game-winning goal in overtime to push Arkansas to the second round.
In her career, Mayo played in an Arkansas-record 91 games, scored 20 goals and accumulated 43 points, but with accolades aside, she says she contributes all successes to her faith.
"My faith has been everything in this journey," Mayo said. "It's really the biggest reason I'm working toward this Olympic dream. Competing in the Olympics is really the pinnacle of athletic achievement. I don't think there is anything more admirable than bettering yourself every day and attaining true excellence as a result, which is exactly what Olympians do."
BY John Thomas