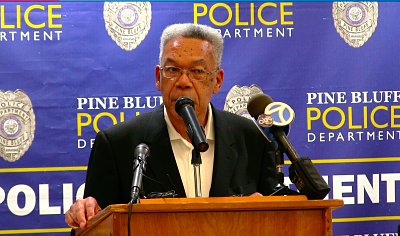 By Ray King
Pine Bluff Interim Police Chief Lloyd Franklin Sr., on Monday confirmed that a second person who was shot in the early morning hours Sunday has died.
Franklin said one of the four occupants of a vehicle at University Drive and Pullen Street early Sunday morning died Sunday afternoon. He said he would not release the name of that individual at this time.
He also announced a partnership with the Federal Alcohol, Tobacco, Firearms and Explosives (ATF), and introduced ATF Supervisory Agent Clayton Merrill of Little Rock who explained the partnership.
There were two separate shooting incidents Sunday, the first at the Sahara Temple at 820 S. Main St., and Franklin said their was zero response time as the initial call came from an officer at the scene. Police say eight people were shot, including one fatally.
The second incident occurred at University and Pullen and Franklin said officers were on the scene there within 30 seconds.
Franklin said investigators have found no connection between the two incidents but the investigation is continuing.