Forgettable season comes to an end, Hogs lose Missouri, 38-0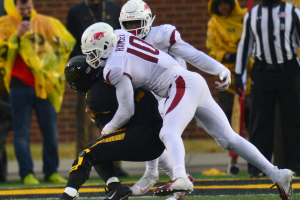 COLUMBIA (Mo.) – It was an unfortunately fitting end to a forgettable season for the Razorbacks Friday afternoon at Farout Field as the Hogs set a record for the most losses in the 124-year history of Arkansas football with a 38-0 finish against Missouri.
On the surface it may seem as though it doesn't take much for this bunch to have a 'here we go again' mentality, but it has taken a lot of losing to get to this point. This season needed to end so Arkansas can move forward, and that's no disrespect to the 15 seniors on the roster who suited up for the last time. Lately, there always seems to be a marker for when the games take a drastic downhill turn. This time, it happened with 2:12 to play in the first quarter when Ty Storey's 42-yard pass to Deon Stewart was negated due to Hjalte Froholdt being flagged on an illegal lineman downfield penalty. Roughly 15 minutes later, Fayetteville (Ark.) native and Missouri defensive end Akiel Byers was in the end zone with a fumble recovery for a touchdown to make it 21-0.
Arkansas failed on special teams with multiple poor punts. They failed on offense with an SEC-low of minus-21 rushing yards at halftime and a goose egg on the scoreboard along with poor quarterback-center exchanges. And a beat up defense failed simply due to being outmanned and at times lackadaisical. The second half, most of the players in the back seven were first or second-year players who are still finding their way. In the second half, Arkansas decided to go with true freshman Connor Noland at quarterback in the second quarter over Storey, who was just 4 of 7 for 24 yards with an interception. John Stephen Jones also saw some fourth quarter action. Noland wasn't much better, either. He finished 5 of 17 for 98 yards. Storey has had some positive moments in games against Ole Miss and Eastern Illinois, but it has been a struggle for the most part. Part of it is due to poor protection and simply lacking weapons.
This game was over before it started. There is no doubt this team showed a significant amount of improvement after the third week of the season – a 44-17 loss to North Texas – when the defense came to play against Auburn, when they lost 24-17 to Texas A&M and special teams joined the defense, when the offense put up 31 points on Alabama, when they probably would have beaten Ole Miss in Little Rock if not for a couple of key injuries and when they beat Tulsa 23-0. But then they failed to show up and lost 45-31 to Vanderbilt before a much-needed bye week. Then they came back and competed against a strong but unmotivated LSU team 24-17. Still, it felt like they might possibly finish the season strong…but instead they were just spent, wiped out and ready for it to end.
The last two games have been as bad as the start when the Hogs also lost to Colorado State in Week 2, 34-27 before the loss to the Mean Green. They were dominated in every phase today, and Mississippi State simply made the Hogs quit as they pounded them 52-6 in Starkville before this one.This season is a direct result of poor roster management by former head coach Bret Bielema – two players who would have easily committed to the Razorbacks out of Fayetteville High School – Byers and quarterback Taylor Powell, both played in the game for Missouri. Arkansas played 15 freshmen on Friday, and the Hogs need them to lead an overall culture change. They have nine months and eight days to start turning this game around until Portland State comes to town in 2019…
by Trey Biddy