Fast Start Leads Arkansas Into SEC Tournament Semifinals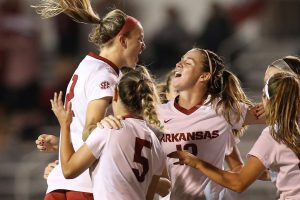 ORANGE BEACH, Ala. — It only took seven minutes before the Razorback soccer team was up 3-0 on the Ole Miss Rebels Tuesday night at the Orange Beach Sportsplex. That fast start helped fourth-seeded Arkansas cruise to a 4-0 win over the fifth-seeded Rebels, earning a spot in the SEC Tournament semifinals for the third-consecutive season.
Arkansas (12-4-3, 6-3-1 SEC) was the highest-seeded team to advance at the end of the SEC Tournament's four-match day and will face eighth-seeded Florida on Thursday with a chance at its third-straight finals appearance.
Junior Tori Cannata and sophomore Taylor Malham were both part of the Razorbacks' three-goal first half as they also got the help of an Ole Miss own goal in the fourth minute. Cannata's header came in just the second minute of the match while Malham's found the net in the seventh minute.
Senior Reece Christopherson also found the scoresheet early in the second half in her first game back since suffering an injury against LSU (Oct. 4). Christopherson showed no signs of rust after the five-game layoff, playing 67 minutes in the midfield and helping limit Ole Miss to only three shots on goal.
The four goals scored by Arkansas is its largest goal output in an SEC Tournament match since netting four in a 4-0 win over Missouri in 2013. It's also the second time this season that the Razorbacks have won by a four-goal margin as they defeated Kentucky earlier in the year, 4-0.
Cannata now takes over the team lead with eight goals on the season and also has 18 points. She doesn't quite take over the team lead in points, though, as that goes to McKeon, who had a career-high three assists in the game. She now has 19 points, which is one less than her season best of 20 from her freshman season.
From Head Coach Colby Hale
"It was a great start with three goals in the first seven or eight minutes. It, obviously, set the tone and that was a pretty complete performance by us. We've been starting games pretty quick, the shots just went in for us today. We've been creating a lot of chances and I think the players were hungry. I thought this was deserving today."
Up Next
Arkansas moves on to the SEC Tournament semifinals where it will face eight-seed Florida on Thursday, just a week after finishing the regular season against each other. A win for the Razorbacks would give the team it's third-straight SEC Tournament final appearance. Kickoff is scheduled for 3:30 p.m. at the Orange Beach Sportsplex and will be televised on the SEC Network.
BY John Thomas