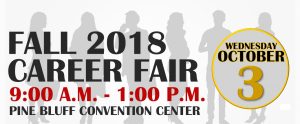 The Office of Career Services at the University of Arkansas at Pine Bluff (UAPB) will host the Fall UAPB Career Fair Wednesday, October 3, 2018.  This event will take place from 9:00 a.m. to 1:00 p.m. in the lobby of the Pine Bluff Convention Center.
Currently, 71 organizations representing business/industry, government, graduate/professional schools and school districts will be in attendance.  Although the list continues to grow, the current registered participants are as follows:
BUSINESS
Ally, Arkansas Blue Cross Blue Shield, Arkansas Electric Cooperative Corporation, Arkansas Hospice, CHI St. Vincent, City Year, Consolidated Electrical Distributors, CTECH, Enterprise Holdings Incorporated, Evergreen Packaging, Federal Insurance Deposit Corp, Federal Reserve Bank of Kansas City, Federal Reserve Bank St. Louis, FMC Corporation, Gerdau Special Steel North American, Glazer Beer & Beverages, Insight St. Louis, Monsanto, Regions Bank, Saint Luke Health System, Schreiber Foods, Sherwin Williams, Simmons Bank, Southwest Power Pool, SSM Health Systems, Union Pacific, United Rentals, Unity Health, USAble Life, Welspun.
GOVERNMENT
Arkansas Department of Education, Arkansas Game & Fish, Arkansas State Parks, City of Little Rock Police, Customs Border and Protection, FBI Little Rock, Federal Bureau Investigation Washington D.C., Houston Police Dept., St. Louis County Police Dept., US Army Corps of Engineers Little Rock, U.S Fish & Wildlife, USDA/NRCS, United States Marine Corps.
GRADUATE SCHOOLS
Alabama A&M, Arkansas State University Media & Communications, Arkansas Teacher Corps, Arkansas Tech University, John Brown University, Missouri State University, Texas A&M Commerce, Thurgood Marshall School of Law,  UALR William H. Bowen School of Law, UAMS Fay W. Boozman College of Public Health, UCA College of Education, University of Memphis.
SCHOOL DISTRICTS  
Arkansas: Bryant, Fort Smith, Garland, Kipp Delta, Malvern, Pulaski County Special, Sheridan, Star City, Stuttgart, West Memphis.  Kansas: Kansas City, Topeka Missouri: Kansas CityTennessee: Green Dot Teach 901, Memphis Teacher Residency,
The Career Fair is open to UAPB alumni and currently enrolled students of the institution.  For more information, contact Shirley Hampton at 870.575.8461. Please bring well prepared resumes. Professional dress is preferred.