Entergy presented the American Red Cross with a $50,000 gift as part of their ongoing commitment to provide relief for those impacted by disaster in Arkansas and across the country.
"Every eight minutes, the Red Cross responds to a disaster. Disaster Responder Program members, like Entergy, provide essential support before disasters strike so the Red Cross is equipped to provide clean water, safe shelter and hot meals during people's darkest moments," Lori Arnold, Red Cross Greater Arkansas Chapter executive director, said.
Severe weather and flooding have inundated multiple states across the country, including most recently the historic flooding that impacted dozens of communities along the Arkansas River. For more than 16 weeks, several thousand Red Cross disaster workers have provided safe shelter, food, relief supplies, health services and comfort to people in need as they plan their recovery from these devastating events.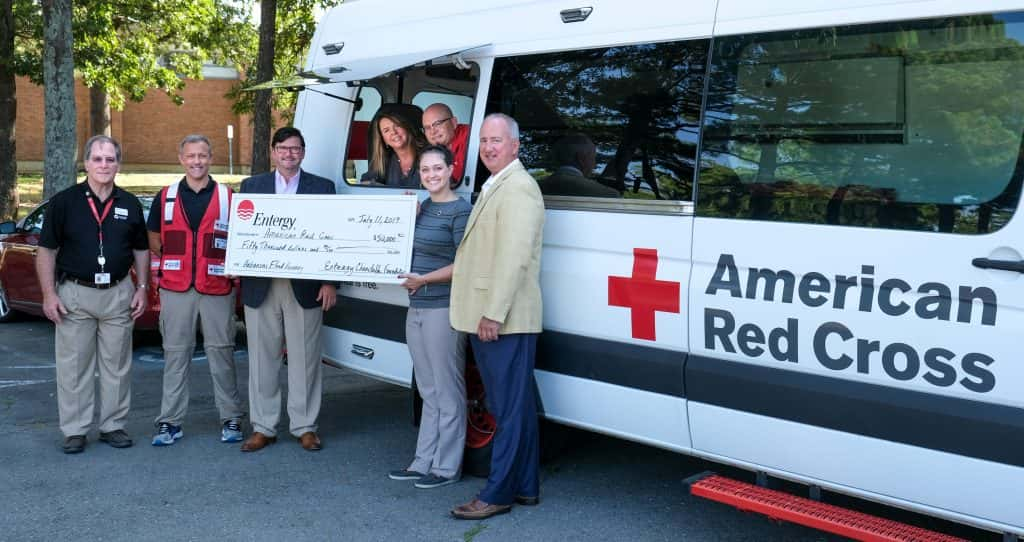 "It's an honor for Entergy to support the American Red Cross as they meet the immediate needs of people in crisis. Many of our customers have been affected by recent natural disasters. We're fortunate to have a partner like the Red Cross during these events as we take care of our primary responsibility to restore power. When we say, 'We Power Life,' this is a good example," said Michael Considine, Entergy Arkansas vice president of customer service.
As of July 8, 2019, the Red Cross has provided the following to assist communities devastated by the severe flooding in Arkansas:
Provided over 2,200 shelter stays for individuals and families
Served more than 29,900 meals and snacks
Distributed more than 12,100 relief items and emergency supplies
Response efforts were supported by more than 300 active volunteers
Made more than 2,600 disaster health and mental health contacts