Approximately 125 residents from the Myranda Place apartments are being effected after an E-F1 tornado destroyed a section of the Broadmoor community Wednesday evening leaving them displaced.
Pine Bluff Mayor Shirley Washington noted that 150-200 people overall have been affected by this past week's twister and that assessments are ongoing at the Myranda Place apartments to determine how to proceed with repairs. Washington has also reached out to the governor's office for assistance.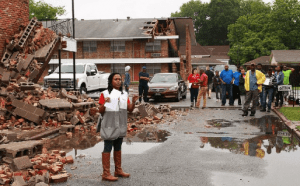 American Red Cross Executive Director Lori Arnold said that affected citizens are being fed twice per day at the Pine Bluff Convention Center. Additionally, other services are being offered to citizens displaced by the tornado. "We have opened approximately 80 cases. That is about 125 individuals who have been helped," Arnold said. "There are eight to 10 people who will not be able to get back into their homes anytime soon, but we are hoping everybody else will be able to once the power is returned to the apartment complex." The Red Cross has been feeding displaced citizens twice per day at the Pine Bluff Convention Center with the help of local businesses and volunteers.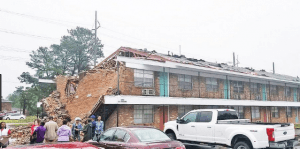 Mayor Washington said that the outpouring of support from the City of Pine Bluff and its neighbors has been great to see. "The outpouring of support from Pine Bluff citizens for our neighbors in need has been nothing short of incredible," Washington said. "Times like this show us the true meaning of community. For those who have not had a chance to donate yet, I hope you will consider a financial contribution to the American Red Cross and the Pine Bluff Salvation Army to support citizens in this difficult time. Together we will make right what is wrong, repair what is broken, and heal what is injured."