Dollarway's Cameron Henderson Commits to OK Panhandle State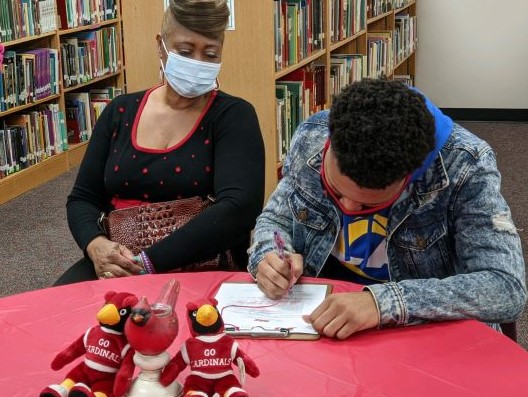 Cameron Henderson of the Dollarway Cardinals signed his letter of intent  in front of family, coaches, administrators and media at the Dollarway High School library, committing to Oklahoma Panhandle State University.
Henderson , the 6'0 180lb senior running back, rushed 69 times for over 800yds and 6 touchdowns this season. He also had 3 receptions for 44yds and 6 total tackles on defense while earning a spot on the 2020-21 All-State team.
When asked why he chose this particular university, Henderson responded "…just having a chance at playing college football and I've always wanted to do this since I was little…it was just something I always wanted to do…" I also asked Cameron what he would miss most about high school football: "…the excitement with my friends, winning, losing, just everything…"
Cameron joins teammate Lamarious Douglas who committed to the Aggies earlier this month. The pair will travel to the small town of Goodwell, Oklahoma in the fall.