Dirrigl Named SEC Scholar-Athlete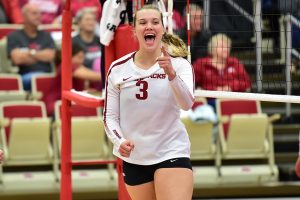 FAYETTEVILLE, Ark.- Razorback sophomore Hailey Dirrigl has been named SEC Scholar-Athlete of the Year, as announced by the league Sunday afternoon.
The Phoenix, Ariz. native led the Hogs is kills with 321, and ended the season seventh in the SEC for kills/set with 3.61. Earlier this season, she eclipsed 500 career kills and will enter her junior season with 642 kills.
Dirrigl recorded 20 service aces for the Hogs this season, as well as 154 digs and 25 blocks. She appeared in 25 matches and 89 sets this year.
The outside hitter holds a 3.91 GPA as a biomedical engineering major. A triple-minor in mathematics, business, and nanotechnology, she plans to enroll in the Nanotechnology Institute at the end of her junior year.
"This is a much-deserved recognition for Hailey's academic and athletic contribution to our program," head coach Jason Watson said. "Hailey plays a big part of what we are trying to do here at Arkansas. The professional manner in which she balances her workload is an example to those around her and a testament to her utilizing the resources provided to all student-athletes at Arkansas."
BY Jordan Manning