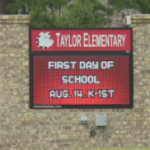 A possible cancer cluster at a Jefferson County Elementary School has the attention of the Arkansas Department of Health.
The school in question is Taylor Elementary School in White Hall.
White Hall School District Superintendent Doug Dorris says 17 faculty members have been diagnosed with some form of cancer while working there since 1977.
"We are very concerned about that high number and that is why we are checking it out," he said. "Our biggest concern was the safety of our students and teachers."
Dorris says two current teachers have been diagnosed with breast cancer.
He says over the summer, they tested the air quality of each classroom in every school in the district.
"We hired a company out of Little Rock, and they placed canisters in every classroom of the building we had," Dorris said.
The canisters tested for Radon, a gas that can cause cancer if inhaled. They also tested air quality.
In both tests, results showed no dangerous compounds were detected in any classroom.
"As far as our facilities, they are safe," Dorris said. "Parents and children have nothing to worry about."
The Arkansas Department of Health is conducting a second investigation.
"We met with school staff and teachers at Taylor elementary," Dr. Bala with the department said.
He says the department is gathering more information and looking for similarities in the teacher's medical records.
Coincidence or not, Superintendent Dorris says safety of the students and faculty is the district's top priority.
"There is nothing to be concerned about at this time. If there is, White Hall will take care of it," he said.
The Arkansas Department of Health says they take all complaints like this very seriously.
Officials also stress how common cancer is, saying it's possible these cases are not connected.
The department of health's investigation is ongoing.
Post courtesy of KATV news.