Dozens of birds, snakes, and alligators are still waiting at other facilities as their home gets rebuilt.
It's a different scene at the Arkansas Game and Fish Commission's Delta Rivers Nature Center as 15-foot floodwater has finally receded. What should be the nature center's busiest season for visitors, is instead a busy cleanup season.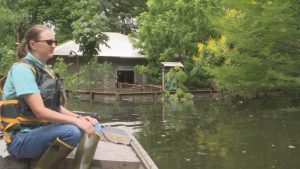 Education Program Specialist Trenton Powell was there for the 2015 flood, but he wasn't expecting what 2019 brought. The main building, which sits on stilts, barely missed floodwaters. Other buildings like the classroom weren't so lucky. Crews spent Tuesday gutting buildings and completely redoing them.
The Game and Fish Comission says it probably won't be until fall before the center will reopen the business.
"It's gonna take a much longer time to bring our animals back; that's the upsetting part", says Powell.
Volunteers who wish to help can contact the nature center on its Facebook page. https://www.facebook.com/AGFC.DRNC