By: Ray King
Justice of the Peace Dr. Herman Ginger died Friday at Jefferson Regional hospital.
Ginger, 78, was an Optometry Specialist in Pine Bluff, Arkansas and served as District Six Justice of the Peace for Jefferson County. During his terms on the Quorum Court, he has served as chairman of the Finance Committee and the Public Safety/Emergency Services Committee. He has also served on the Community Development and Grants Committee and the Solid Waste/Recycling Committee.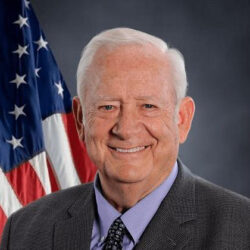 Ginger, a native of Jefferson County, practiced optometry in Pine Bluff for 48 years. He graduated from the University of Arkansas at Monticello and earned a doctoral degree in optometry from Southern College of Optometry at Memphis, Tenn. He has been a member of the Arkansas Optometric Association and American Optometric Associations for more than 40 years and served as president of the Arkansas Optometric Association and on the national committee structure of the American Optometric Association.
Jefferson County Sheriff Lafayette Woods, Jr. gave his thoughts on Ginger in a press release Friday.
"Justice Ginger was an outstanding member of the Jefferson County Quorum Court, an unsung hero of another era willing to accomplish bipartisan legislative objectives. His public input on the governing of Jefferson County was legendary among his peers and he will be sorely missed. The flags at sheriff's office will be lowered to half-staff in his honor until he is laid to rest."
Justice of the Peace Ted Hardin gave his thoughts on Ginger as well.
"We worked together," Harden said. "We didn't always see eye to eye but we accepted each other's opinions. In the past few years we got a lot closer because we both wanted to do what's best for the county."
Harden said he received word about the death Friday afternoon.
"I'm going to miss him," Harden said.
County Judge Gerald Robinson said Ginger was a part of the quorum court not only the entire time Robinson was sheriff but also for the time Robinson served as Chief Deputy Sheriff before he was elected the first time.
"So he was around for most of my career and when I became County Judge we talked about every day about where we wanted the county to go." Said Robinson.
Robinson said he would miss Ginger's "institutional knowledge of county business. He loved Jefferson County and wanted the best for it."
Robinson said Ginger had heart surgery about a year ago but was coming back from it.
"He talked about walking every day but health professionals say COVID affects the immune system and how people respond."
Asked about filling the position, Robinson said the quorum court first has to declare a vacancy and then a replacement will be appointed to serve the remainder of the term.
Ginger had filed for reelection and was unopposed and Robinson said he has received information from the Arkansas Association of Counties on what to do next.