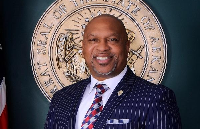 On Tuesday night, the Jefferson County Quorum Court, during a special called meeting approved a more than $230,000 appropriation for the adult jail.
A large part of that appropriation will be used to pay for food and medicine, according to a request from Sheriff Lafayette Woods Jr.,
Wednesday morning, Jefferson County Judge Gerald Robinson appeared on the Oldies 1013 morning show to talk about the appropriaito9n.
Morning show host Greg Horne said there had been controversy over where the money was going to come from, with Woods wanting to use money from the adult jail fund and Robinson wanting to use money from unused salaries for jailers.
"The main thing was just to get it done," Horne said and Rob9inson replied this way.