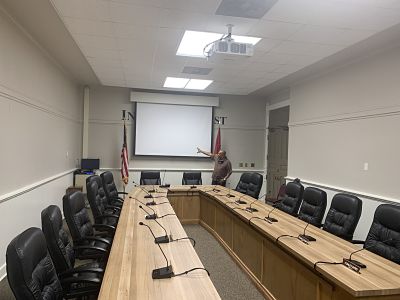 By Deseray McKinzy
The Jefferson County Judge Gerald Robinson spoke with Deltaplex about the 8-month renovation project of the historical county courthouse. The Quorum Courtroom where the Quorum Court Committee meets monthly was one of the first renovations that have been completed in the courthouse recently. According to Judge Robinson, The renovations are funded through federal funding of the CARES ACT, which allows the county to obtain these updates without using the county's funds. 
Robinson said that some of the goals that he wanted to complete in order to, "move the county forward", was to create better avenues of advancing the pay rate for county employees and concentrate on buildings and grounds in which he stated that they have been able to complete. 
Robinson went on to explain one of the main reasons he chose to start the main renovations with the Quorum Courtroom,
Robinson also described the work that needed to be completed in the courthouse, beginning with the windows changing them to be more energy efficient which helped the county save $110,000 in utility fees last year. In progress, are the ceiling tile replacements, new paint on all of the courthouse walls, new flooring throughout the entire building, and upgrading the outside of the building including the roof. 
The city/state Street Scrape project is also finishing up around the courthouse and in the downtown area which Robinson explained as being another reason why they decided to renovate not only the courthouse but other county buildings that are all over 20 years old.