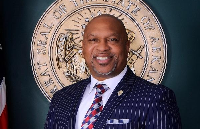 By Ray King
Jefferson County Judge Gerald Robinson on Wednesday talked about efforts currently underway to remodel the County Courthouse, the three new county buildings that are currently under construction, and his hopes to add more new buildings in the future.
Robinson was a guest on the Oldies 101.3 morning show and said using COVID money as well as from other sources, the dome has been painted, there is a new roof, and work is currently underway inside on the floors and repainting.
"We found out during COVID some of the materials in the courthouse made it difficult to clean and try to sanitize and keep people safe because of those old materials," Robinson said.  He also talked about what he wanted to do if he is reelected next year.
Meanwhile, dedication ceremonies are set in mid-November for the ribbon cutting for the first of the three new county buildings being constructed by the P3 group.
Robinson said the U.S. Brown Coroner's Office should be ready for occupancy by mid-November and he hopes the employees of the Jefferson County Health Department are able to move into the Josetta Wilkins Health Department building located behind the Jefferson Regional Professional Building 1 before the ribbon is cut to open that facility.
He also said he was proud of the fact that a lot of local vendors were involved in the construction of those new buildings.