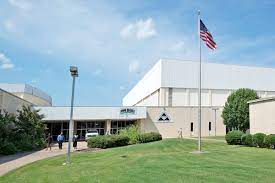 The Pine Bluff Convention Center has been busy since they were able to open back up after a year of canceled events due to the Covid-19 pandemic. More recently the convention center presented the GoForward Pine Bluff Fest by handling logistics, hosted the Practitioners: Leading and Learning teachers conference, and a dance recital. The center is also the main location for the monthly City Council Meetings.
The Director of the Convention Center, Joseph McCorvey, spoke with Deltaplex about some of their upcoming events including a Business Exposition that's set to take place on August 18th and a Homecoming event in the Fall. McCorvey explained more.
The convention center is currently preparing to host the annual Award Banquet Ceremony for the Pine Bluff Police Department Friday, June 25th. McCorvey also mentioned plans to host the historical King Cotton Classic later this year.
On another topic, McCorvey explained that the convention center lost the hotel that is connected to them but they were able to purchase it back. McCorvey further explained his vision for the hotel and their partnership with the city and the Urban Renewal Agency.
The convention is accepting events and interested individuals can contact them at 870-536-7600 or visit their website for prices and more information at pinebluffconventioncenter.com.