By Ray King
Formal charges have been filed against a Pine Bluff man accused of shooting another man to death in May.
Prosecuting Attorney S. Kyle Hunter charged Ronald Spraglin Jr., with capital murder.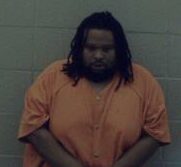 On Friday, Pine Bluff District Judge John Kearney read the charge to Spraglin.
Spraglin is accused of the May 27 shooting death of Willie Buckley whose body was found inside a house at 2200 W. 10th Ave., and was pronounced dead at the scene.
A witness told police he saw a man later identified as Spraglin pull a gun from his waistband, stand at the victim's door, and fire two shots. Two shell casings were recovered at the scene.
The case was assigned to First Division Circuit Judge Alex Guynn.