By Ray King
Formal charges have been filed against a Pine Bluff man accused of killing another man in July.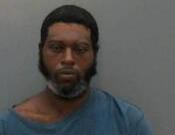 Prosecuting Attorney S. Kyle Hunter has charged Christopher Edmonds, 37, with first-degree murder in the July 16 death of Omar Amos who was found beaten inside a house at 1203 S. Nebraska St. Bond for Edmonds was set at $500,000.
According to a probable cause affidavit from Detective DeShawn Bennett, when officers arrived at the scene, they discovered that Amos had been beaten in the head and facial area with a silver baseball bat which was found at the scene with blood on it.
Two separate witnesses told police they had seen an unidentified black male sitting in the front passenger seat of Amos's vehicle the night Amos was killed. Another witness said a male he knew only as Chris had been seen at Amos' residence recently and had seen Chris coming out of an abandoned house at 1108 S. Florida St.
Bennett reported going to the house and found the rear door open.  A mattress and blanket were found in the house indicating someone had been sleeping there and a bloody white tee-shirt was found laying over a bucket. The shirt was sent to the Arkansas State Crime Laboratory for analysis.
While leaving the area, Bennett located Edmonds walking about a block away from the area and when Edmonds told Bennett that he had been staying at the house, he was taken to the Detective Office for questioning.
When Edmonds was questioned, he admitted to being the last person to see Amos alive. He said there was an altercation between himself and Amos and he (Edmonds) grabbed a silver bat which Amos normally kept behind his front door and hit Amos with the bat numerous times before leaving the house.
Bennett also reported that the Arkansas State Crime Laboratory autopsy report showed that Amos died from severe blunt force trauma caused bb multiple blows from a blunt force object.
The Public Defender's Office was appointed to represent Edmonds and the case was assigned to Fifth Division Circuit Judge Jodi Raines Dennis.