Chadwick, Jacobus Post NCAA-Best Marks In Season Opener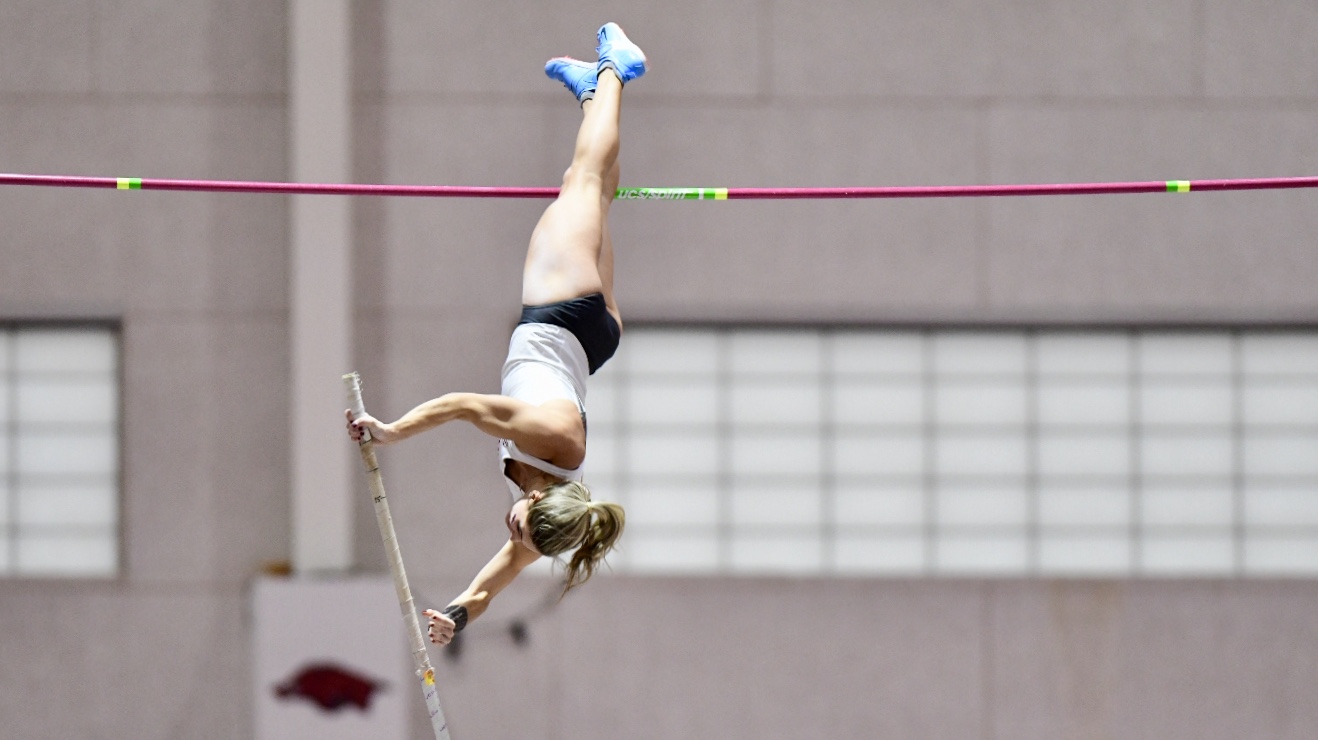 FAYETTEVILLE, Ark. – No. 1 Arkansas opened its 2019 campaign with a solid showing at the Arkansas Invitational Friday night at the Randal Tyson Indoor Track.
"It was a great opener," said head coach Lance Harter. "We were able to convince everyone that Christmas break is over. Our vaulters exceeded any expectations by anyone – which obviously there's tremendous talent in that group. We had some fantastic performances in the 60-meters and the deuce (200-meters) that were a pleasant surprise. In the distances, we did some things that I think were more tactical than they were about time. All in all, I think our peers have chosen us to be No. 1 (in the rankings), today I think we acted like that," said Harter.
Arkansas had a handful of performances that will likely finish the weekend in the top-10 of the NCAA track & field rankings including the second-best vault in the world this year by Lexi Jacobus who cleared 4.49m (14-8.75) to take the women's pole vault competition.
On the track, the Razorbacks were led by performances from Kiara Parker (60-meters), Payton Chadwick (200-meters), Tiana Wilson (400-meters), Meghan Underwood (800-meters), and Carina Viljoen (1-Mile), all of whom won their respective events Friday afternoon.
Of the aforementioned performances, Parker tied for the NCAA lead entering this weekend running 7.26 setting a new personal-best, while Chadwick's time in the 200-meters would've led the nation entering today's meet after she clocked a 23.35 in the one-lap race. Viljoen ran the fastest mile in Division I with her time of 4:47.11.
Arkansas had several freshmen make their Razorback debuts on the track Friday night.
"I think that some of them were a little bit glassy-eyed and surprised by the level of competition. I've been trying to portray to them 'understand this was just an opener, you haven't even seen the SEC teams yet'. Some are going to be in for a rude awakening, others I think took care of business, and I think that it is going to be a journey that will be a week-to-week progression, otherwise they're going to get left behind," Harter finished
The Razorback vaulters will be in action next week as they travel to Reno, Nev. for the USA Pole Vault Summit Jan. 18-19. The rest of the team will take the week off to prepare for the Razorback Invitational on Jan. 25-26 at Randal Tyson Indoor Track.
by: Jeff Smith