This week's edition of Arkansas Business featured an article entitled Tribes Betting on Casino Amendment.
Arkansas voters will decide in the November election if the Quapaw and Cherokee tribes are going to be allowed to build casinos in Jefferson county and Pope county.  If the amendment to allow casino gambling in our area the Quapaw Tribe says they will definitely apply for the permit to build a new casino in Pine Bluff.  They even provided an artist rendering (above) of their proposed casino.  John Berrey, chairman of the Quapaw tribe says they have an option of a site in the Pine Bluff area but wound not divulge the location so as to not cause land speculation.  The proposed casino would have about 350 rooms with five to seven restaurants, an entertainment facility and a spa.  The casino would have 70,000 to 80,000 feet of gambling space as well as museums devoted to the blues and native Americans and African-Americans in the Jefferson County Area.
PB Casino Rendering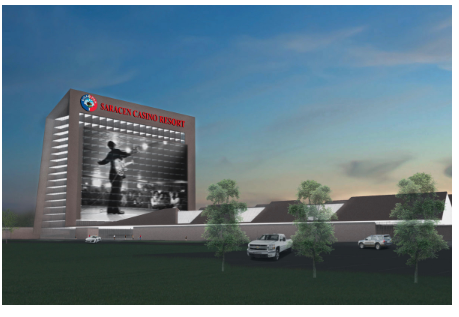 The tribe has contributed $1,196,000.00 to the organization promoting the amendment, Driving Arkansas Forward.  The Cherokee nation, which says they will pursue a casino in the Russellville area has also contributed a million dollars to the organization. In addition to Pope and Jefferson counties, the amendment would allow Oaklawn and Southland to expand their Hot Springs and West Memphis casinos to allow table games such as blackjack, craps and roulette.  Presently only electronic games such as slot machines are allowed in their casinos.
The complete article may be found in this week's issue of Arkansas Business or online at Arkansas Business dot com.