By Ray King
A $50,000 cash only bond was set Friday for a Pine Bluff man who allegedly shot another man July 22.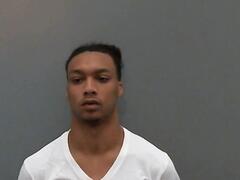 Jefferson County District Judge Kim Bridgforth set the bond after ruling prosecutors have probable cause to charge Cameron Bennett, 21, with first-degree battery.
Deputy Prosecutor Holden Raines asked for the cash only bond after telling Bridgforth that Bennett is currently out on bond after being charged with possession of a controlled substance with purpose to deliver, simultaneous possession of drugs and firearms, possession of drug paraphernalia and felony fleeing.
Reading from an affidavit from Detective Chris Wieland, Raines said that Officer Ryan Edwards was working off-duty at the Emergency Room at Jefferson Regional Hospital when he notified dispatchers that a shooting victim had showed up.
Detectives were notified and while they were on their way to the hospital, dispatchers reported that the shooting may have occurred in the area of Howard Drive. At the hospital, it was determined that the male victim had received gunshot wounds to the left arm and abdomen, and he was not questioned at that time because he said he was hurting.
The victim underwent surgery for his wounds.
Wieland reported that officers interviewed the victim's brother who said he had taken the victim to the Howard Drive area and saw the victim walk up to a vehicle, then heard gunshots and heard his brother yell in pain. A second witness was able to give police a license plate number for the vehicle and officers located a black Chrysler 300 with a tab which returned to an address in the 2600 block of Shady Grove.
Officers went to that location where they recovered .40-caliber shell casings and found blood on the street.
The victim was interviewed Wednesday and told police he had gone to buy "weed" from a man later identified as Bennett and picked Bennett's photo out of a six-man photo lineup that police showed him.
On Thursday, Officers located Bennett at a house in the 1600 block of South Missouri Street and he was taken into custody. Raines said Detectives also served a search warrant at the house and seized a .40-caliber handgun in what was determined to be Bennett's bedroom. That gun has now been sent to the Arkansas State Crime Laboratory for testing.
Bennett said he would hire his own attorney and was ordered to have no contact with the victim until the case is settled.