Campbell Shines As Razorbacks Take Opener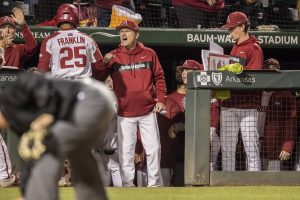 FAYETTEVILLE, Ark. – Redshirt junior Isaiah Campbell outdueled Mississippi State ace Ethan Small Thursday night, helping the 10th-ranked Razorback baseball team defeat second-ranked Mississippi State, 5-3, at Baum-Walker Stadium for its 10th conference victory of the year.
Arkansas (28-10, 10-6 SEC) now moves into a tie for second in the SEC Western Division with Mississippi State (32-7, 10-6 SEC). Texas A&M, which won Thursday night also, is solely in first place with a 10-5-1 record.
For the second-straight week, Campbell worked 7.2 innings and didn't walk a batter as he struck out 10 on 105 pitches and scattered five hits with two earned runs allowed. The righty worked around a solo home run in the fifth by Rowdey Jordan and settled back in for the sixth and seventh innings before struggling to get the first two outs in the eighth.
Junior closer Matt Cronin took over in the eighth and closed out his eighth game of the year, giving up a solo home run of his own in the ninth, but striking out three over 1.1 innings.
Campbell now has seven wins on the year and has pitched six or more innings in eight consecutive starts. He's also totaled eight-consecutive quality starts dating back to March 1 and has struck out 10 or more in four of those outings.
Hog Hitters Rally Past Small In Late Innings
Arkansas' offense was held in check by Ethan Small through the first four innings as the Bulldog hurler had a perfect game until Dominic Fletcher's lead-off single in the fifth. The Hogs didn't score in that inning, but finally started to figure out Small by the sixth.
Casey Opitz led off that inning with a walk, followed by a Christian Franklin single and a Trevor Ezell sacrifice bunt. The flood gates opened when Casey Martin doubled home the go-ahead runs and then Matt Goodheart singled home the third run of the game. It was Martin and Goodheart's only hit of the game and extended Goodheart's hitting streak to 11 games. The three runs allowed by Small were the most he's given up in a game this season.
Fletcher's Long Ball Provides The Insurance
In the eighth inning, MSU had pulled within one after Campbell struggled with command and gave up a lead-off double to Dustin Skelton, who later scored on a RBI groundout after a wild pitch. However, in the bottom half, the Hogs got two more runs off the bat of Dominic Fletcher, who deposited his sixth home run of the year into the visitor's bullpen, making it 5-2.
Fletcher now has at least one hit in 16 of his last 19 games and has driven in at least one run in five of his last eight games. He finished Thursday's game 3-for-4 with two RBIs, his sixth game with three or more hits and third multi-hit game in a row.
Razorback Quotables
"I thought we did just a really good job of staying calm. We were calm in the dugout. We knew what we were up against. We were up against a quality pitcher that doesn't really give you a whole lot. We talked about when we get a chance to get him, we've got to get him because it might be one shot. We got a leadoff man on, then Franklin got the big two-strike hit and we were kind of off and running there. Just a really good job by the offense of hanging in there and not getting too frustrated and we put together a big inning." – Head coach Dave Van Horn on what his hitters did well against Ethan Small
"I thought he was outstanding. At the end of six innings, he kind of made the comment he started feeling a little bit tired. We punched in some runs and it's almost like he got a second wind out there and we thought, 'well, if he can get us through the sixth' and he did. He said I think I can go another and when he got us through the seventh real quick he said 'hey I don't want to come out yet.' No walks, 10 strikeouts, I mean, what more could you want? And limited one of the best hitting teams, if not the best hitting team in the league to five hits. That's a great outing." – Head coach Dave Van Horn on Isaiah Campbell's outing
"Well, it's always big to win the first one. It gives you an opportunity to kind sit back and evaluate your pitching for the weekend. Our pitching, we're still figuring it out a little bit. We've had a few guys banged up and we have (Jacob) Kostyshock back now. It's just a good feeling, obviously. Your mindset now is if we find a way to win game one, we can win the series. If you lose that game, you tell your team you're fighting and we can still win this series." – Head coach Dave Van Horn on the importance of winning game one of a series
"My mindset didn't change. I knew if I just kept making pitches and keeping us in the game, our hitters would get to him and get the lead and that's what we did in the sixth. It gave us some momentum and we carried it on until the end of the game." – Isaiah Campbell on his mindset going up against a good Mississippi State offense
"That guy throws a bunch of cutters, so I took one and then he threw a slider down in the dirt. I kind of had a feeling another cutter was coming and I got on time with it. I think it's huge to score late and give your bullpen another couple of runs for cushion." – Dominic Fletcher on his eighth-inning home run
Up Next
Arkansas and Mississippi State return to the field on Friday for game two of the three-game series. First pitch from Baum-Walker will be at 6:30 p.m. and will be broadcast on SEC Network+.
by John Thomas