"Frank Broyles, Arkansas Legend," a tribute film to the late University of Arkansas head football coach and men's director of athletics, will be released online at ArkansasRazorbacks.com on Tuesday, August 14, on the one-year anniversary of Broyles' passing. Coach Broyles passed away at his home in Fayetteville on August 14, 2017 at the age of 92.
The film was commissioned by the University of Arkansas Department of Intercollegiate Athletics to commemorate Broyles' life and legacy. "Frank Broyles, Arkansas Legend was produced and edited by Jim Borden and researched and written by Larry Foley, Professor and Chair of the School of Journalism and Strategic Media. Former University of Arkansas quarterback Scott Bull, who played for the Razorbacks under Coach Broyles from 1972-75, is the narrator for the film. Kevin Trainor, University of Arkansas Senior Associate Athletics Director for Public Relations, served as the executive producer on the film.
In April, the 14-minute film won a Broadcast Education Association (BEA) Festival King Foundation Award – the top award given during the BEA's Festival of Media Arts.
"Frank Broyles is one of the true iconic figures in the history of Arkansas and intercollegiate athletics," Vice Chancellor and Director of Athletics Hunter Yurachek said. "His passion for this program, this state and the Razorbacks was truly remarkable. The film celebrates Coach Broyles' tremendous impact and celebrates his extraordinary contributions as an athlete, coach, administrator, broadcaster and Alzheimer's care advocate. His legacy lives on and continues to shape every aspect of the Razorback Nation."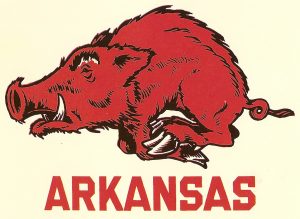 Broyles spent more than a half century serving the University of Arkansas as a football coach, athletics director and goodwill ambassador. In 19 seasons (1958-76) as head football coach, Broyles amassed a record of 144-58-5, seven Southwest Conference titles and 10 bowl bids. In 1964, Broyles led the Razorbacks to an undefeated season and a national championship.
During his 34 ½ years as Athletic Director (1973-2007), Broyles transformed the Razorbacks into one of the most successful programs in the nation earning 43 national titles, 57 SWC titles, 48 SEC titles and 22 bowl game appearances. His vision and leadership were the driving forces behind the University of Arkansas moving to the Southeastern Conference (SEC) in 1990.
In 1996, the Broyles Award was created in recognition of his long-standing history of developing successful assistant coaches. The Broyles Award is given annually to college football's top assistant coach. In 2007, the field at Donald W. Reynolds Razorback Stadium was dedicated as Frank Broyles Field. In 2013, a bronze statue of him was dedicated in front of the Broyles Athletic Center, the athletics administration building which also bears his name.
Beyond his work at Arkansas, Broyles was part of one of the most beloved college football broadcast television teams in history, working alongside Keith Jackson for nine years on ABC. In the fourth quarter of his life, Broyles turned his focus to improving the quality of life for those suffering from Alzheimer's disease and their loved ones. In 2006, Coach Broyles established the Barbara Broyles Legacy, later becoming the Frank & Barbara Broyles Legacy Foundation. Broyles worked toward the publication and national distribution of a guidebook for caregivers, entitled "Coach Broyles' Playbook for Alzheimer's Caregivers" which is based on his family's personal experience caring for his first wife, Barbara Day, in their home. To date, more than one million copies of the playbook have been distributed.