Brown, Jacobus Named to The Bowerman Pre-Conference Watch List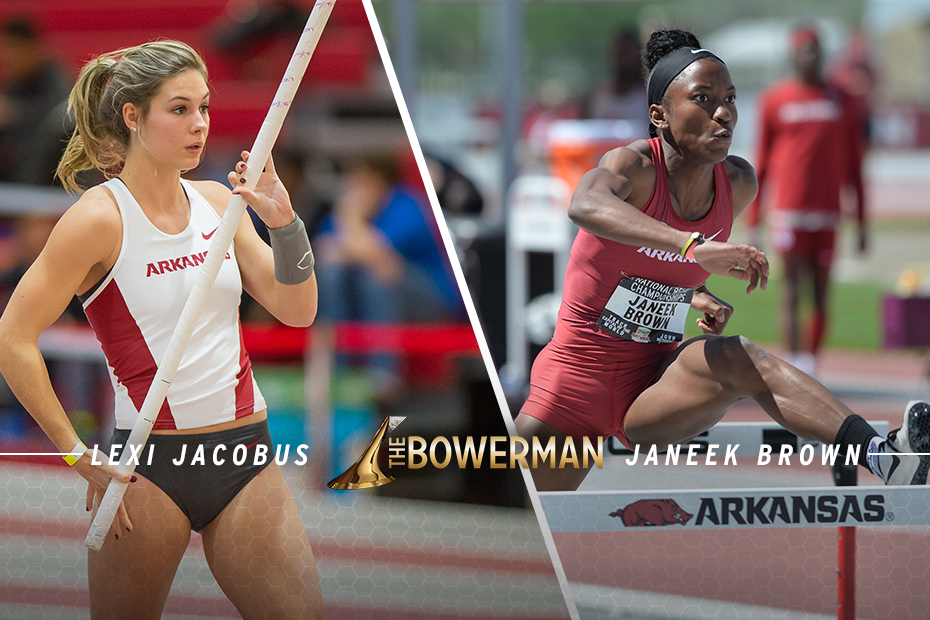 NEW ORLEANS, LA – As she has been for every Bowerman Watch List in 2019, Arkansas' NCAA champion pole vaulter Lexi Jacobus was named to the latest Bowerman Watch List, this time with a new face to the list as Janeek Brown made her first appearance on the list announced Wednesday afternoon by the U.S. Track & Field and Cross Country Coaches Association.
Jacobus is one of two student-athletes from the Southeastern Conference (SEC) to be featured on the prestigious list of 10. Jacobus has been featured on all of The Bowerman Watch Lists in 2019 and is now joined by teammate Janeek Brown who put the NCAA on alert after her performances at the National Relay Championships this past weekend at John McDonnell Field.
Jackie Joyner-Kersee. There stands the only name to top Janeek Brown's performance this past weekend. Brown shattered the Arkansas program record in the 100-meter hurdles, a record she held, turning in a blistering 12.57 that currently leads the world in the event. Brown then returned to run a lifetime-best of 22.67 in the 200-meters, a time that is currently No. 2 in the NCAA and No. 3 in the world. The 100-meter hurdle/200-meter double was the second-fastest in the history of the sport trailing only Jackie Joyner-Kersee double from the 1988 outdoor season – a year she was a two-time gold medalist at the Summer Olympic Games in Seoul, Korea.
The sophomore also ran a leg on the women's 4×100-meter relay and the 100-meter shuttle hurdle relay helping her relay capture event titles in both. For her performance, Brown was named the USTFCCCA National Athlete of the Week as well as the SEC Women's Runner of the Week.
Following her NCAA Championship performance at the Birmingham Crossplex to conclude the indoor season, Jacobus has competed at the Texas Relays clearing a season-best 4.25m (13-11.25).
The next Women's Watch List for The Bowerman will be released May 15.
The Bowerman Watch List: 2019 Women's Pre-Conference Championships Update
(Click student-athletes' names for their TFRRS page)
NAME

YEAR

SCHOOL
EVENTS
HOMETOWN
Chanel Brissett
SO
Southern California
Sprints/Hurdles
Philadelphia, Pa.
Janeek Brown
SO
Arkansas
Sprints/Hurdles
Kingston, Jamaica
Olivia Gruver
SR
Washington
Pole Vault
Reisterstown, Md.
Jessica Hull
SR
Oregon
Distance
Albion Park, Australia
Lexi Jacobus
JR
Arkansas
Pole Vault
Cabot, Ark.
Dani Jones
SR
Colorado
Distance
Phoenix, Ariz.
Mackenzie Little
SR
Stanford
Javelin
Roseville, Australia
Danae Rivers
JR
Penn State
Mid-Distance
Derby, Conn.
Kayla White
SR
North Carolina A&T
Sprints
Miami, Fla.
Ashtin Zamzow
SR
Texas
Combined Events
Goliad, Texas
Also Receiving Votes: Sharrika Barnett (Florida), Shadae Lawrence (Colorado State), Alicia Monson (Wisconsin), Allie Ostrander (Boise State), Sha'Carri Richardson (LSU), Kaelin Roberts (Southern California), Twanisha Terry (Southern California)