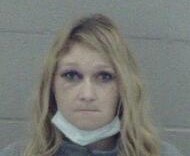 By Ray King
A $10,000 cash only bond was set Tuesday for a Jefferson County woman accused of shooting her sister Thursday.
Pine Bluff District Judge John Kearney set the bond after ruling prosecutors have probable cause to charge Carliesa Harvill, 35, with first-degree domestic battery and with being a felon in possession of a firearm because of prior convictions.
During the court hearing, Deputy Prosecutor Mircha King explained the circumstances that led to Harvill's arrest.
The shooting occurred in the 9000 block of Pine Meadow and according to a press release from the sheriff's office, the victim, Caliesa Harvill, 30, was taken by a private vehicle to a church on Sulphur Springs Road where a helicopter landed, and she was flown to a Little Rock hospital. Her condition was unknown at the time of the release.
King said Carleisa Harvill contacted deputies and turned herself in and when questioned, said she had thrown the gun in the woods. He said she is currently on active parole and has two prior convictions. Harvill was ordered to have no contact with her sister until the case is settled