By Ray King
A $50,000 bond was set Monday for a Pine Bluff man accused of shooting another man Dec. 15.
Pine Bluff District Judge John Kearney set the bond after ruling prosecutors have probable cause to charge Cornelius Christopher, 30, with first-degree battery.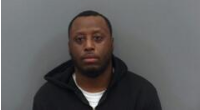 At a court hearing for Christopher, an attorney for Christopher asked for a lower bond, saying that a bond of $5,000 to $10,000 would be more appropriate but Deputy Prosecutor Beth Carson said the state was not interested in lowing the bond and that the $50,000 was the amount Prosecuting Attorney Kyle Hunter had recommended.
Reading from an affidavit from Detective Tamina Smith, Carson said police were learned from the victim that the shooting occurred in the area of West 22nd and Ash Street. The victim also identified Christopher as the person who shot him while he was in his vehicle.
According to the affidavit, the victim said Christopher was angry because the victim had been involved in a relationship with Christopher's ex-girlfriend, who Is now pregnant, but said he was not the father.
Carson said Christopher had followed him to the area of West 22nd and Ash, then got out of the passenger side of a black Dodge Charger and fired shots, with one of them striking the victim in the back.
A witness who was in the vehicle with the victim said he saw Christopher get out of the black Dodge Charger and fire shots and Smith reported that police learned that there was a black Dodge Charger registered to Christopher.
Christopher was not questioned after he asked for an attorney. He was ordered to have no contact with the victim until the case is settled.