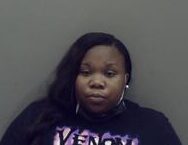 By Ray King
An investigation that began with a fraud report was taken by the Pine Bluff Police Telephone Reporting Unit on Aug. 23 resulted in the arrest of Shalyah Ferguson, 22, who denied any knowledge of the allegations.
During a court hearing Friday, Deputy Prosecutor Jill Reed explained the allegations against Ferguson.
Detective Jason Boykin interviewed Ferguson and reported that she said she did not know anything about the extra money in her bank account or about the checks that were deposited and said she does not check her account.
Jefferson County District Judge Kim Bridgforth set a $5,000 bond for Ferguson after ruling prosecutors have probable cause to charge her with forgery and theft of property. Ferguson said she would hire her own attorney.