By Ray King
A 19-year-old Pine Bluff man who has been identified as being involved in a June 7 homicide has also been accused of pointing a semi-automatic weapon at another man during an altercation on June 18.
Vernon McCraney was taken into custody on that incident Friday after police were sent to an apartment complex to investigate a reported armed disturbance.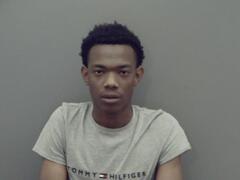 During a court hearing Tuesday, Deputy Prosecutor Jay Gerard said police interviewed a female who said she was sitting in a car in the parking lot with McCraney when a brown vehicle pulled up next to them and a male in the vehicle pointed a gun at them.
Gerard said Detective Corey Wilfong spoke to the male and reported what the man said.
The female said she and the male exchanged words before he pointed a semi-automatic weapon at her and then pointed a pistol at McCraney.
Later that day, Wilfong was able to get more information about the incident, Gerard said.
Gerard said prosecutors will present information on the murder allegation against McCraney Wednesday.
Pine Bluff District Judge John Kearney set a $75,000 bond for McCraney after ruling prosecutors have probable cause to charge him with aggravated assault. McCraney was ordered to have no contact with the victim until the case is settled.