By Ray King
A $15,000 bond was set Wednesday for a Pine Bluff man who allegedly hit his girlfriend in the face several times during an altercation Saturday, causing injuries that will require surgery.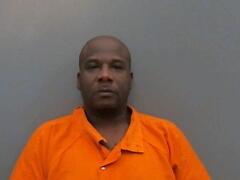 Pine Bluff District Judge John Kearney set the bond after ruling prosecutors have probable cause to charge Kenneth Brown, 39, with second-degree domestic battery.
Reading from a probable cause affidavit from Detective Chris Wieland, Deputy Prosecutor Beth Carson said an officer was sent to a residence on West 35th Avenue and talked to the victim who said Brown became upset because she took a blanket from him while they were sleeping.
She said Brown hit her in the face and the police report showed the victim had swelling to her jaw and blood around her mouth. When Brown was interviewed, he said the victim had hit him first.
Carson said that on Tuesday, the case was referred to Detectives and Wieland interviewed the victim, who had initially been taken to Jefferson Regional Hospital and then transferred to UAMS. During that interview, the victim said she and Brown had argued on Friday and he punched her in the face. She said she lost count of the number of times he hit her and said he also choked her.
According to the affidavit, the victim will require surgery and had several broken bones in her face.
The Public Defender's Office was appointed to represent Brown and he was ordered to have no contact with the victim until the case is settled.