By Ray King
A $30,000 bond was set Friday for a Pine Bluff man accused of shooting a female during an altercation Wednesday.
Pine Bluff District Judge John Kearney set the bond after ruling prosecutors have probable cause to charge Isaac Peters, 51, with first-degree domestic battery and being a felon in possession of a firearm.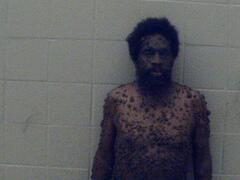 Reading from an affidavit from Detective Sgt. Steve Rucker, Deputy Prosecutor Joe West said police responded to a reported shooting and were told by the female victim that when she went into Peters' house, he yelled at her. She said got into an altercation and he pulled out a .22-caliber pistol. She was shot in the middle finger of her left hand during a struggle over the gun.
West said Peters has a prior conviction for residential burglary and theft of property. He was ordered to have no contact with the victim until the case is settled.