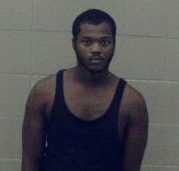 By Ray King
A $15,000 bond was set Wednesday for a Pine Bluff man accused of refusing to let a female out of his car and choking her.
Jefferson County District Judge Kim Bridgforth set the bond after ruling prosecutors have probable cause to charge Terrance Pickett, 25, with false imprisonment and possession of a controlled substance.
Reading from an affidavit from Tri-Count Drug Task Force Investigator Morgan Carter, Deputy Prosecutor Beth Carson said Sheriff's Sgt. David Williams was patrolling Highways 54 and 133 at 2:45 a.m. when a white Cadillac passed him, and he noticed the passenger door open and a female yelling for help.
Another deputy arrived with two females, including the victim and Carson told the court what she said.
The second female, who was a witness told basically the same story. She said Pickett stopped the vehicle and let her out and she started walking until she saws the blue lights.
Carter also reported that Pickett gave a statement.
In addition to the felony allegations, Pickett was cited for misdemeanor fleeing, fictitious tags, a suspended driver's license, no proof of insurance, and failure to appear from a previous incident.
Pickett said he was self-employed and Judge Bridgforth told him he did not qualify for the Public Defender's Office because his income was too high.