By Ray King
A $50,000 bond was set Friday for a Pine Bluff man previously convicted of a felony who was arrested after a gun was found in the vehicle he was driving.
Police reported that the gun had been reported stolen in Jonesboro, Deputy Prosecutor Beth Cason said during a court hearing for Deshawn Sanders, 36, Friday morning.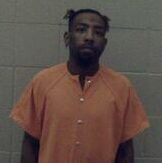 Carson said Detective Chris Wieland reported that he and another detective were patrolling on Olive Street at 27th Avenue Thursday at 9 p.m. and had stopped at a stop light. They noticed a vehicle, a Nissan Altima with California license plates did not have its lights on.
When the car was searched, police found the gun under the driver's seat. When Sanders was interviewed, he said he did not know the gun was in the car and did not know where it came from.
In addition to not setting the bond, Jefferson County District Judge Kim Bridgforth told Sander that the Department of Corrections had placed a hold on him for allegedly violating the conditions of his parole and that he would be held without bond on that allegation pending a hearing.