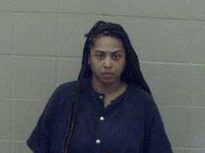 By Ray King
A Pine Bluff woman was arrested Sunday after she was involved in a pursuit with an Arkansas State Trooper after she refused to stop the vehicle she was driving and fled through residential streets on the north side of the city.
Mikaila McMurray, 28, was taken into custody after she pulled the vehicle into the parking lot of an apartment complex and then resisted efforts by the trooper to place her in handcuffs.
During a court hearing Tuesday, Deputy Prosecutor Beth Carson said the trooper was patrolling U.S. Highway 65-B, the Martha Mitchell Expressway when he saw a silver passenger car that appeared to be traveling faster than the posted speed limit. Radar in the trooper's car showed the vehicle was traveling 75 miles per hour in a 45-mile-per-hour zone.
Carson said the trooper reported that the vehicle tried to pull onto Pullen Street and accelerated rapidly and the trooper tried to initiate a traffic stop.
McMurray was initially held on aggravated assault on a law enforcement officer but Carson said prosecutors would amend that allegation and charge her with felony fleeing because the resisting arrest and assault were misdemeanors.
Jefferson County District Judge Kim Bridgforth set a $5,000 bond for McMurray after ruling prosecutors have probable cause to charge her with felony fleeing. The Public Defender's Office was appointed to represent her.