Boit Named SEC Runner Of The Year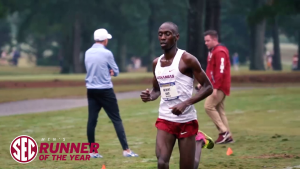 BIRMINGHAM, Ala. – In recognition of his SEC Championship run, helping Arkansas to a runner-up finish at the conference meet in Auburn, Ala., Gilbert Boit received Southeastern Conference honors, announced Wednesday afternoon.
Boit was named the SEC Men's Runner of the Year, voted to that distinction by the conference head coaches. Currently, in his first cross country season with the Hogs, Boit has finished as the No. 1 at two meets this season (SEC Championships, Penn State National Open) and has posted a season-best time of 22:20.13 that is No. 1 in the SEC this season at 8K. Boit became the fifth Razorback over the last eight seasons to bring home the individual conference title joining Eric Fernandez (2011), Kemoy Campbell (2013), Stanley Kebenei (2014), and most recently Alex George (2016).
The junior from Eten, Kenya was also named SEC Runner of the Week following his Razorback cross country debut in a second-place finish at the 30th Annual Chile Pepper Festival.
In total, Arkansas departed Auburn with second-place finish five All-SEC performers including First-Team selections: Gilbert Boit (First-Place), Cameron Griffith (Third-Place) and two Second-Team selections: Ryan Murphy (Ninth-Place) and Ethan Moehn (14th).
All-SEC Cross Country Teams
Men's First Team All-SEC
Gilbert Boit, Arkansas
Alfred Chelanga, Alabama
Cameron Griffith, Arkansas
Waleed Suliman, Ole Miss
Ben Young, Kentucky
Cade Bethmann, Ole Miss
Mario Garcia Romo, Ole Miss
Men's Second Team All-SEC
Farah Abdulkarim, Ole Miss
Ryan Murphy, Arkansas
Kieran Wood, Missouri
Mark Robertson, Ole Miss
Thomas George, Missouri
Silas Kipngetich, Auburn
Ethan Moehn, Arkansas
Men's Freshman All-SEC
Cade Bethmann, Ole Miss
Mario Garcia Romo, Ole Miss
Ryan Murphy, Arkansas
Silas Kipngetich, Auburn
Karl Thiessen, Tennessee
Patrick Schafer, Kentucky
Sam Bowers, Georgia
BY Jeff Smith