On Monday, the Blue & You Foundation for a Healthier Arkansas presented a check in the amount of $109,630 to the University of Arkansas at Pine Bluff to fund an enhanced nursing clinical lab and the placement of automated external defibrillators throughout campus, according to a news release.
Blue Cross Blue Shield Regional Executive for South Arkansas Rebecca Pittillo made the presentation at the Caine-Gilleland Hall atrium.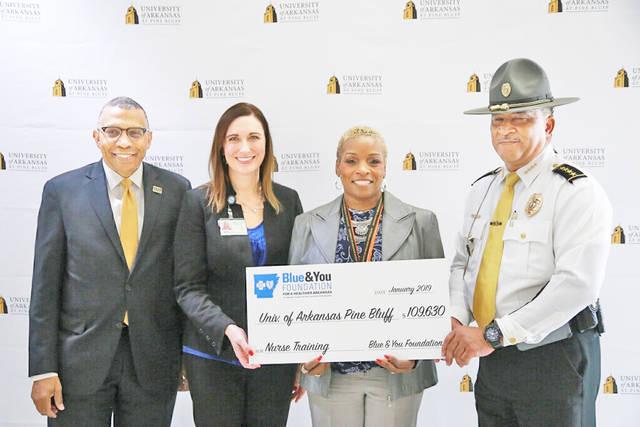 "We are grateful to receive this grant from the Blue & You Foundation," UAPB Chancellor Laurence B. Alexander said. "Not only does it allow us to strengthen clinical education delivery in our nursing program, but it also increases the number of students the department can serve. Our campus is also made safer for individuals who have sudden cardiac arrest with the addition of twelve AEDs placed in our housing complexes, student and faculty gyms and other key areas."
The grant will enable the department to purchase simulation technology to provide on-campus, supervised lab practice during nonscheduled hours, the news release said.
The nursing lab will be enhanced with upgraded medical equipment and supplies, including SimMan® 3G, an emergency patient simulator, portable computers, IV infusion pumps, and an electrocardiogram machine. And while it covers the cost for acquiring the AEDs, the grant will also pay for operational training.
"Our grants this year went to programs throughout the state that address such issues as nutrition and exercise, food insecurity, emergency medical services and medical professional education," Patrick O'Sullivan, executive director of Blue & You Foundation, said.