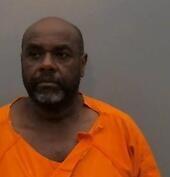 After an ongoing investigation, the Jefferson County Sheriff's Office has arrested and charged Michael Danny Britten, 57-year-old black male, with murder-first degree in the homicide of Leslie Bradley, 56-year-old white male.
Bradley was found deceased in his Altheimer residence located in the 600 block of West Third Street on December 4, 2019 when deputies were dispatched to conduct a welfare check.
Bradley's friend had been concerned after not seeing him for a few days. It was also learned that Bradley had also been missing from work. Criminal Investigators discovered Bradley's body with multiple injuries.