On May 28, 2019, at approximately 2:22 a.m. a black female, later identified as 33-year old Travisha Watson, was observed on the W.C. "Dub" Brassell Detention Center camera walking away from the loading dock area.
Sergeant Fred Green and Investigator Joseph O'Neal of the Jefferson County Sheriff's Office/Tri-County Drug Task Force investigated pertaining to the incident. Green obtained a copy of the Detention Center's surveillance footage that showed Watson tying two plastic wrapped tube-shaped items to a string hanging from the Detention Center's wall. A short time later, Watson returned to the loading dock area to retie the plastic items that looked as if they had become untied.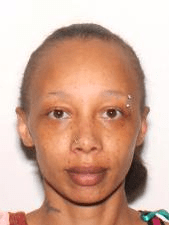 After investigating, it was found that the two tube-shaped items contained two cellphone chargers, two cords, 106.4 grams of tobacco, and 17.1 grams of K2.
On June 17, 2019 Green and O'Neal made contact with Watson and conducted an interview. During the interview, Watson stated that she had received a call from a friend who asked her to go to the Detention Center and dispose of a plastic item that had fallen to the ground. She also stated that she picked up the items from the Detention Center ground because she was depressed and stressed. Watson has been charged with Furnishing Prohibited Articles Class "B" Felony and Possession of Schedule VI with purpose Class "D" Felony.