Arkansas Takes Sixth-Straight Conference Title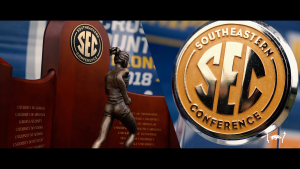 AUBURN, Ala. – The No. 5 Arkansas women's cross country team had five runners finish in the top-10 at the Southeastern Conference Cross Country Championships en route to its sixth-consecutive SEC Cross Country title Friday morning. The Razorbacks have now won 19 cross country conference championships, more than the 13 other conference teams combined.
"To be able to put as many as we did in the top-ten just shows our firepower," said head coach Lance Harter. "I think if we can use this as a rehearsal for regionals, a rehearsal for the things we want to do at the National Meet, we're well on our way."
With all five scorers finishing in the top-10, Arkansas scored a total of 24 points, it's lowest score since 2006 when the Razorbacks scored 17 points. It's the fourth time in program history that Lance Harter's squad has scored fewer than 25 points at the SEC Championships since joining the league in 1991. The Razorbacks also became the first school in conference history to win six cross country title in a row.
Setting a new program record in a 6K run, freshman standout Katrina Robinson paced the Razorbacks, finishing second overall with a time of 19:00.88. Her time eclipses Andreina Byrd's 17-year record of 19:07.29 also set in Auburn in 2001 and her finish marks the sixth-straight year the Razorbacks have had a top-two finisher at the conference meet.
"She (Robinson) had a fantastic race. She led part of the race, and she really wanted to win it. That's just her nature. (Jessica) Pascoe is a phenomenal athlete with great credentials and was able to get away from her in the last kilometer, but she was able to support Lauren (Gregory), Carina (Viljoen), and Taylor (Werner)."
"We all ran as a team," said Robinson. "I was really proud of us for getting a team victory. We trained through this week, so I don't think any of us felt amazing, but I'm really proud that we got the job done."
Lauren Gregory and Carina Viljoen finished third and fourth, respectively, each improving on last year's finish that saw them take 12th and sixth. Gregory who took the SEC Freshman of the Year award finished with a time of 19:07.90, while Viljoen was shortly behind at 19:10.15. Taylor Werner finished sixth with a time of 19:22.17. Gregory, Viljoen, and Werner's times are now the second, third, and fourth fastest 6k times in program history.
Rounding out Arkansas' scoring was Sydney Brown who finished ninth with a time of 19:43.78. Arkansas, who took the maximum 12 runners allowed by the league, saw even non-scores have a good day on the course with Maddy Reed and Micah Huckabee finishing 10th and 16th, respectively to make it seven Razorbacks to finish in the top-20. No other team had more than four finish in the top-20 in Friday's race.
All-SEC Teams
First Team (Finishers 1-7)
Katrina Robinson
Lauren Gregory
Carina Viljoen
Taylor Werner
Second Team (Finishers 8-14)
Sydney Brown
Maddy Reed
All-Freshman Team (Top seven freshmen finishers)
Katrina Robinson
Arkansas will take a two-week break from action before returning to the course Nov. 9 in College Station, Texas for the NCAA South Central Regional.
BY Devan Lawson