Arkansas Sweeps Doubleheader Against Mercer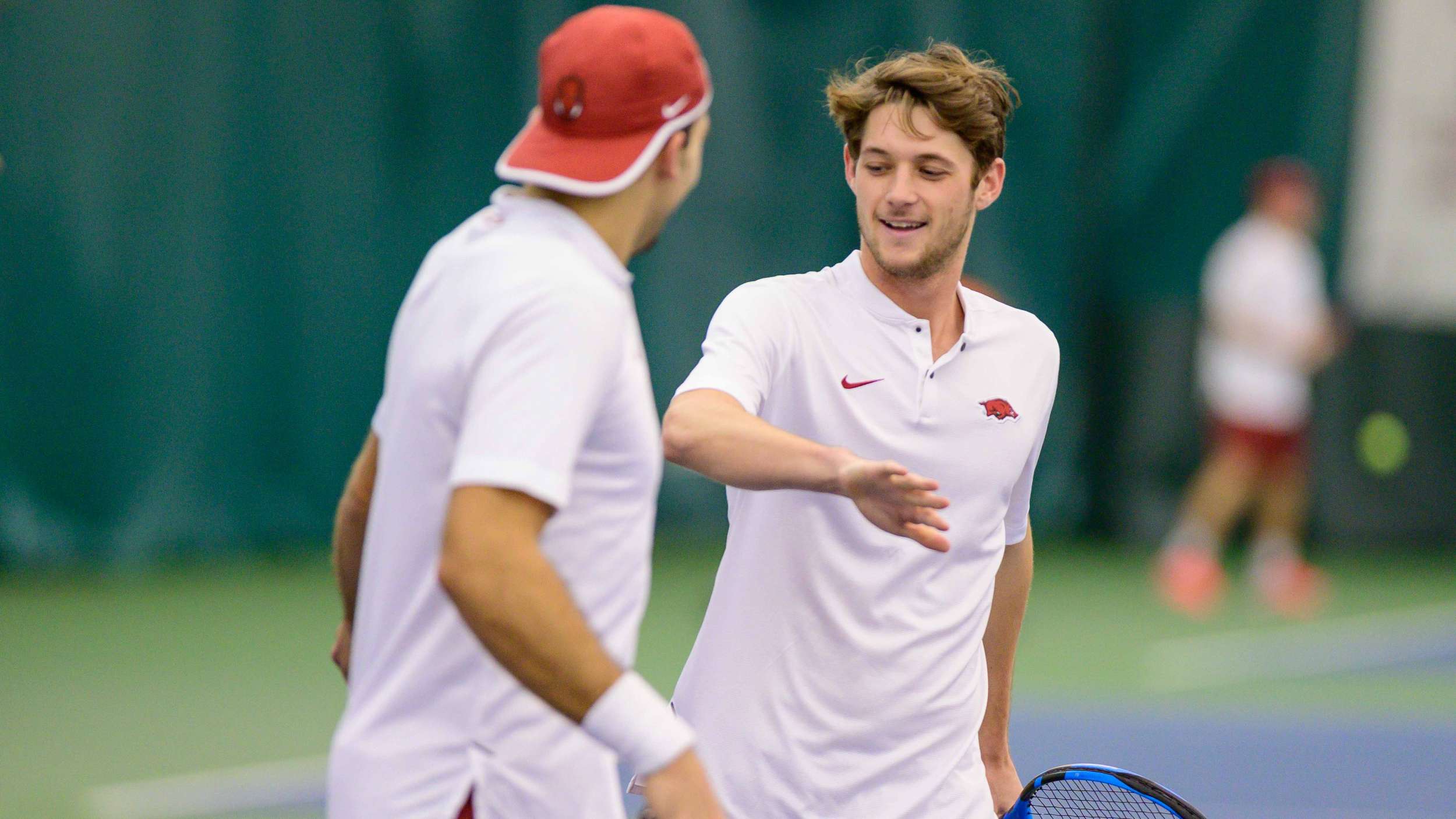 FAYETTEVILLE, Ark. – The Arkansas men's tennis team began action for its 2019 campaign with a doubleheader against Mercer Wednesday afternoon, picking up wins in both matches.
Arkansas got off to a quick start in the first match. In doubles, Alex Reco and Josh Howard-Tripp won the first game 6-0 over Mercer's Jimmy Emslie and Carver Arant. The Razorbacks clinched the doubles point off of Oscar Mesquida and Adam Sanjurjo's 6-2 win over the Bears' Stathis Tsiranidis and David Georgandze.
It was a similar story once singles started as Pedro Dominguez Alonso def. David Georgadze 6-0, 6-0 to set the tone for the rest of the match. Arkansas would win five straight singles matches to go up 6-0 before Mercer picked up their first victory for a 6-1 final in match one.
In the second match, Arkansas clinched the doubles point with a 6-0 victory from Mesquida and Pedro Alonso followed by a 6-4 win from Paya and Verboven to give Arkansas the first point heading into singles action. The Razorbacks went undefeated on the day in doubles play, going 5-0.
In singles action of the second game, Pedro Dominguez Alonso gave Arkansas a quick 2-0 advantage by defeating Fernando Guardia 6-1, 6-0. The Razorbacks would clinch the match 4-0 before losing their first match on the second court.
Adam Sanjurjo would claim Arkansas' fifth victory, having come back from an 0-6 first set to win his match 0-6, 6-4, 10-8. Maxim Verboven also went to the third set, as he won 4-6, 6-2, 10-6.
The Razorbacks return to action this Saturday for a doubleheader against UCF and St. Louis. The match against UCF is scheduled to begin at 1 p.m., with the St. Louis match to follow shortly after.
Match One | Arkansas 6, Mercer 1
Doubles Results – Order of Finish (3,1,2)
1. Mesquida/Sanjurjo def. Tsiranidis/Georgadze, 6-2
2. Paya/Verboven def. Stuart/Guillon, 6-3
3. Reco/Howard-Tripp def. Emslie/Arant, 6-0.
Singles Results – Order of Finish (4,5,3,1,6,2)
1. Mesquida def. Stuart,  6-2, 7-5
2. Guillon def. Sanjurjo, 4-6, 6-3, 10-7
3. Howard-Tripp def. Tsiranidis, 6-3, 6-2
4. P. Alonso def. Georgadze, 6-0, 6-0
5. Verboven def. Guardia, 6-3, 6-1
6. Paya def. Arant, 6-1, 7-5
Match Two | Arkansas 6, Mercer 1
Doubles Results – Order of Finish (3,1)
1. Paya/Verboven def. Tsiranidis/Georgadze, 6-4
2. Howard-Tripp/Reco vs. Stuart/Guillon, 4-4, unfinished
3. Mesquida/P. Alonso def. Salekar/Fernando, 6-0
Singles Results – Order of Finish (4,5,3,2,1,6)
1. Sanjurjo def. Guillon, 0-6, 6-4, 10-8
2. Stuart def. Howard-Tripp, 6-2, 6-2
3. Reco def. Tsiranidis, 6-4, 6-2
4. P. Alonso def. Guardia, 6-1, 6-0
5. Paya def. Georgadze, 6-2, 6-2
6. Verboven def. Arant, 4-6, 6-2, 10-6
by: Devan Lawson