Arkansas Steals Win In Nashville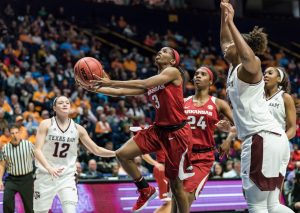 NASHVILLE, Tenn. – The University of Arkansas women's basketball team needed a big rally and some last second heroics to pull out the 69-68 win over undefeated Wisconsin in the final game of the Challenge in Music City on Sunday.
Down one, 68-67, with 11 seconds to go, the Badgers took a timeout and advanced the ball to half-court. Redshirt sophomore A'Tyanna Gaulden tipped the in-bounds pass and pushed it ahead to senior Malica Monk who broke for the basket on the steal. Monk laid it up and in giving Arkansas a 69-68 lead with a little more than four seconds to play.
The Badgers again called timeout advancing the ball to half-court. They put it in play but stepped on the baseline on a drive to the basket. The turnover gave Arkansas the ball back and Wisconsin had to foul but the Razorbacks hung on for the win.
Redshirt sophomore Chelsea Dungee earned all-tournament team honors with a game-high 20 points including a 3-point field goal to tie the game at 54-all with just over six minutes to play. Dungee was 3-for-5 from distance and 7-for-10 from the line.
Junior Kiara Williams and Monk scored 13 points each while junior Jailyn Mason added 12 points, all in the second half comeback. Sophomore Taylah Thomas posted a season-best 12 rebounds allowing Arkansas to edge Wisconsin on the boards, 44-43.
Key Run
Arkansas trailed by as many as 15 points, 50-35, but finished the game on a 39-18 run for the win. Junior Jailyn Mason scored all 12 of her points in the second half, keying the comeback.
Notes
•Arkansas Starters: Alexis Tolefree, Malica Monk, Kiara Williams, Jailyn Mason, Chelsea Dungee
•The Razorbacks forced Wisconsin into five first quarter turnovers and did not have a turnover in that period. The Razorbacks finished with just 10 turnovers.
•Malica Monk had 13 points against Wisconsin and has 925 career points.
•Arkansas is 2-0 against Wisconsin with the only other meeting coming in the WNIT Championship in 1999.
•Chelsea Dungee has scored in double figures in every game (6) this season.
•Malica Monk has scored double figures in five of six games
BY Jeri Thorpe