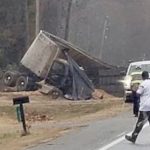 The Arkansas State Police has issued a report confirming that both Sheridan High School students killed in a wreck on HWY 270 were male.

The wreck occurred shortly after 1:00pm on Tuesday November 26, 2019. A 18 wheeler and a pick up truck were the vehicles involved in the fatal car accident.
The Sheridan School District has noted that counselors will be available to students tomorrow morning in the cafeteria beginning at 9 a.m and has released the following statement:
The Sheridan School District is saddened by the tragic news that two Sheridan High School seniors died in a car accident this evening. Our thoughts and prayers are with these families and their friends at this incredibly difficult time.
This is a very sad day for our students, staff and school community. Death can be difficult for us to understand, especially when it is sudden. It is important that we show compassion and support each other.
The Sheridan High School cafeteria will be open tomorrow morning at 9 a.m. Counselors will be available to help our students and staff cope with this tragedy.