Arkansas Opens SEC Play With Win at Texas A&M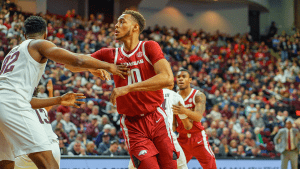 COLLEGE STATION, Texas – With the game tied 59-59 and 4:28 left in the game, Mason Jones drained back-to-back 3-pointers to spark an 8-0 run and Arkansas held on down the stretch to open the SEC slate with a 73-71 win at Texas A&M Saturday evening at Reed Arena.
The game featured 11 ties and 16 lead changes. However, after that 8-0 run Jones started with 4:28 left, Arkansas never relinquished the lead. Even though Arkansas struggled at the line inside the final minute, Desi Sills and Isaiah Joe did just enough at the charity stripe to help secure the win.
Arkansas (10-3, 1-0 SEC) had opened the second half making just 1-of-14 from 3-point range before Jones and Isaiah Joe made four straight, three by Jones and one by Joe. Jones finished with nine points. Jalen Harris scored a team-high and career-high 15 points while handing out nine assists with zero turnovers. Daniel Gafford, who battled foul trouble, finished with his league-best seventh double-double of the season with 11 points and 11 rebounds. Joe added 11 points as well.
Sills led Arkansas to a 32-31 halftime lead as he scored 13 points off the bench. Specifically, he scored eight straight points on a pair of 3-pointers and a layup midway through the first half. He finished with wit a career-high 14.
Texas A&M entered the game as one of the league's top rebounding teams, but Arkansas wound up out-rebounding the Aggies, 47-42, as the Razorbacks pulled down a season-high 17 on the offensive end. In addition to Gafford's 11 boards, Gabe Osabuohien had a career-high seven rebounds off the bench.
Arkansas will return home to face Florida on Wednesday (Jan. 9) in the Razorbacks' SEC home opener. Tip-off is set for 7:30 pm and the game will be telecast on the SEC Network.
Desi Sills First-Half Three
Gafford Rebound & Putback
Harris to Gafford for the Flush
Harris in Transition
Back-to-Back Threes
FIRST HALF: Arkansas 32 – Texas A&M 31
Daniel Gafford blocked a shot at 19:20 in the first half to give him 107 career rejections and move him into a tie for ninth on the school's all-time list with Devion Johnson and Mike Washington.
Leading by three, 12-9, Desi Sills scored eight straight for the Razorbacks, making back-to-back 3-pointers and a layup to keep Arkansas up seven, 18-11.
However, the Aggies went on a 9-0 run to take a 2-point lead, 22-20. Daniel Gafford ended the run with a tip-in.
Jalen Harris was credited with a basket on goaltending with six seconds left to give Arkansas a 3-2-31 lead at the break.
Desi Sills scored 13 first half-points. Not only did that lead the team but it was a career high. His previous best scoring output was nine which he obtained versus Colorado State and Western Kentucky.
SECOND HALF: Arkansas gets 10 points and five assists from Jalen Harris in the second half.
Arkansas made just 1-of-its-first-14 3-point attempts before making four straight, three by Mason Jones and one by Isaiah Joe.
Two of those 3-pointers by Jones spurred a 7-0 run to give Arkansas a seven-point lead, 66-59, with 2:38 Jalen Harris capped the run with a layup.
Gabe Osabuohien had five of his career-high seven rebounds in the second half.
 GAME NOTES:
Arkansas' starters were Isaiah Joe (G) – Jalen Harris (G) – Mason Jones (G) – Adrio Bailey (F) – Daniel Gafford (F). This has been the starting lineup in 12 of Arkansas' 13 games.
Texas A&M controlled the tip. Arkansas' Isaiah Joe scored the first points of the game, a 3-pointer at 18:29.
Beginning its 28th season in the Southeastern Conference, Arkansas is 16-12 all-time in SEC openers.
Texas A&M is one of two teams on this year's schedule that Arkansas played in its inaugural season in 1923-24. Texas is the other. It is no coincidence that both Texas A&M and Texas rank 1-2 as the most common opponents in Razorback history.
With Texas A&M joining the SEC in 2012-13, the Aggies are the Razorbacks' most common opponent with today being the 158th game played in the series. The Razorbacks own a 103-55 advantage in the series, including a slight 39-37 advantage in games played in College Station. Arkansas also holds a 7-4 advantage since the Aggies joined the SEC.
Arkansas has three players with Texas connections, all in the Dallas-Ft. Worth metroplex. Mason Jones hails from DeSoto and Jordan Phillips is from Fort Worth. While Reggie Chaney is from Tulsa, Okla., he played two seasons at Frisco Liberty HS, where he was the #3 overall prospect in Texas, before he finished his career at Findlay Prep in Nevada. Also, Mason Jones' sister, Jordan, was a standout for the Aggies. She was drafted by WNBA, was a two-time SEC Defensive Player of the Year and finished third in school history in assists.
Daniel Gafford recorded his seventh double-double of the season, finishing with 11 points and 11 rebounds.
Arkansas is 6-1 in games Gafford records a double-double this season.
Jalen Harris just missed his fourth double-double, getting a career-high 15 points and nine turnovers. He had zero turnovers, marking the fourth time he has accomplished that feat. He entered the game third in the NCAA in assist-to-turnover ratio.
Gabe Osabuohien had a career-high seven rebounds and tied his career high with six points. He also scored six in a win over the Aggies last season in Fayetteville.
Gabe Osabuohien and Desi Sills were the first two players off the bench. Osabuohien has been the first sub 11 times this season and Sills has been first off the bench nine times. The two have been first off the bench eight times this season, including each of the last six games.
Desi Sills reached double figures for the first time in his career, finishing with a season-best14 points.
Isaiah Joe (11 points) and Daniel Gafford (11 points) are the only Razorbacks to score in double figures in all 13 games this season.
by: