Arkansas Falls To No. 18 Georgia Tech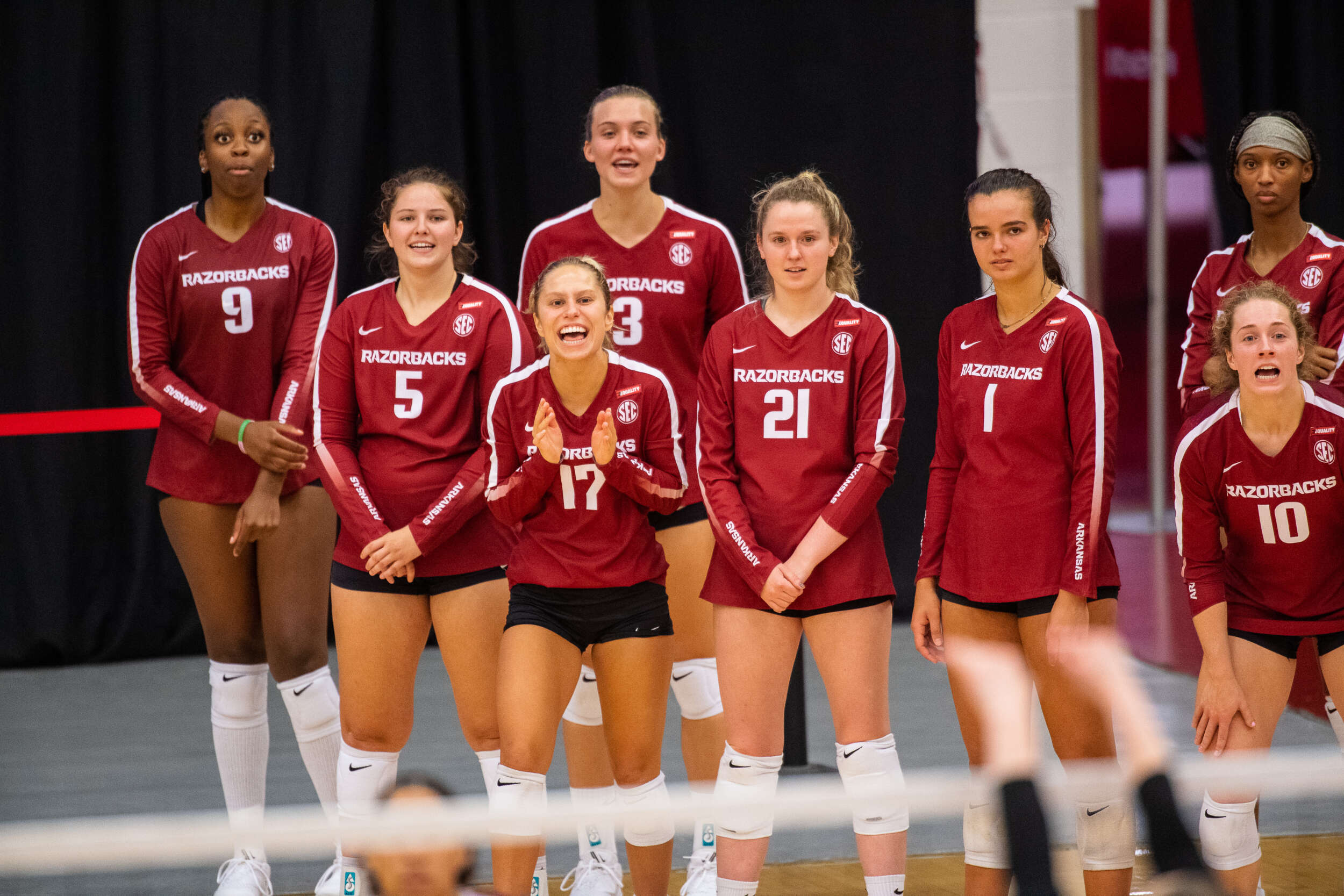 The Razorbacks played their first match against a ranked opponent this season on Thursday afternoon at the ACC/SEC Challenge and fell in straight sets to No. 18 Georgia Tech. 
Arkansas moves to 8-2 on the season with the loss and 0-7 all-time against the Yellow Jackets.
Junior Taylor Head led the Razorbacks with 10 kills in the match and hit .333. Senior setter Gracie Ryan had 25 assists. 
The two teams steadily traded points early in the first set, and the Razorbacks answered a 3-0 Georgia Tech run with one of their own featuring a kill and solo block from junior Jill Gillen and a block from Abigail Archibong and Maggie Cartwright to go up 9-8. The score was tied four more times from there and a kill from Head put Arkansas up 15-14 and sent Georgia Tech to the timeout. The Yellow Jackets then swung the momentum with a 6-1 streak and the Razorbacks called a timeout of their own. Arkansas scored seven of the next 11 points and tied the score at 23-23. A kill from Gillen spoiled the Yellow Jacket set point, but two in a row sealed the 26-24 set victory for Georgia Tech. Despite the loss, the Razorbacks outhit the Yellow Jackets .213 to .120 in the set.
Georgia Tech used the momentum from the first set to open the second 9-3. After an Arkansas timeout, the Razorbacks scored the next two points, but the Yellow Jackets extended their lead to 11-5. Arkansas never let Georgia Tech score more than two points in a row, but the Hogs couldn't get any runs of their own going. Down 16-10, they headed to a timeout. The Razorbacks didn't cut the Yellow Jacket lead to less than four points, and a kill finished the second set out 25-18 in favor of Georgia Tech.
The Razorbacks quickly went down 7-1 in the third set and regrouped with a timeout. It wasn't enough to stop the Yellow Jackets' strong attack, and Arkansas scored just three of the next 11 points. The Razorbacks added kills from Gillen, Archibong and Head shortly after, which brought the score to 19-8. Three straight Georgia Tech points then put the Yellow Jackets up by 14 and within three of the set and match victory. Arkansas added three more points with kills from senior Ellease Crumpton, Archibong and a Georgia Tech attack error, but back-to-back Georgia Tech kills ended the set 25-11 and 3-0 for the Yellow Jackets on the match. 
The Razorbacks close out the ACC/SEC Challenge tomorrow with a match against host NC State at 6:00 p.m. CDT. The match will be streamed live on ACC Network Extra via ESPN+.