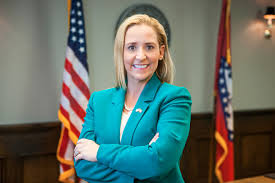 By Ray King
Arkansas Attorney General Leslie Rutledge and the Arkansas Public Service Commission have opened  investigations into Liberty Utilities which provides water to the City of Pine Bluff because of low water pressure and, by the companies own admission more than 100 water leaks found so far.
On Wednesday, Rutledge was interviewed on Deltaplex Radio and was asked what she was trying to accomplish.
Rutledge said she became aware of the problems after getting phone calls and text messages and said she has been in contact with city and county officials, as well as officials from Liberty Utilities. She was asked how her investigation would differ from the one conducted by the Public Service Commission.
During the interview, Greg Horne told Rutledge that a report filed by Liberty Utilities in 2018 showed that of 3.6 trillion gallons of water pumped in Pine Bluff, 276 million gallons were described as lost or unaccounted for and in 2019, of 3.7 trillion gallons, 920 million were listed as lost or unaccounted for, which Horne said many public officials believe those lost or unaccounted for gallons of water were result of leaks. He asked Rutledge for her reaction to the report.
Rutledge said the problem is not going to be fixed overnight and called on residents who have reported leaks to the company that have not been fixed to call her office at 800-482-8982
Here the entire interview from 7:15 Wednesday morning on Oldies 101.3 below.