Arkansas Attorney General Leslie Rutledge is reminding Arkansans about the national Prescription Drug Take Back Event and the various drop-off locations available from 10:00am to 2:00pm on Saturday, October 27, 2018.
"The bi-annual Prescription Drug Take Back Day is the ideal opportunity to turn in unused and expired medication, to ensure it stays out of the hands of addicted Arkansans," according to Attorney General Alerts that appeared on the website.
The national events are held twice a year, but to find event sites and year-round drop-off locations near you, visit ARTakeBack.org.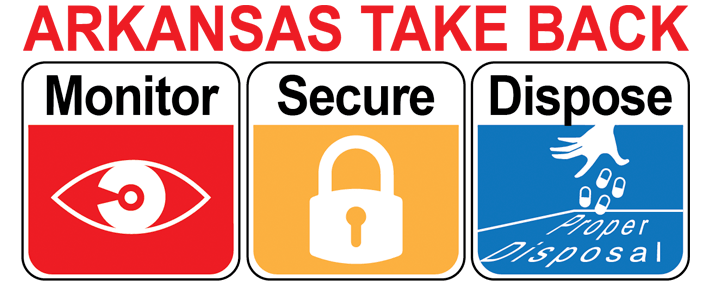 "Parents, grandparents, aunts and uncles have unknowingly become drug dealers to family members," Rutledge said. "Properly disposing of medication is imperative and can save the lives of family members, friends and fellow Arkansans. This epidemic impacts a staggering number of families across Arkansas and it takes action by all of us to make a difference."
Rutledge released the following list of medications that will be accepted at these events across the state:
Opioids, such as OxyContin, Hydrocodone, Vicodin, etc.
Stimulants, such as Adderall, Ritalin, Concerta, Dexedrine, etc.
Depressants, such as Ativan, Xanax, Valium, etc.
Other prescription medications
Over-the-counter medicines
Vitamins
Pet medicines
Medicated ointments and lotions
Inhalers
Liquid medicines in glass or leak-proof containers (up to 12 ounces)
Medicine samples
Medications may be returned in the original bottle or in any other container for increased privacy.
"Properly destroying these medications also protects the environment. Medicines that are flushed or poured down the drain can end up polluting waters, which could contaminate food and water supplies. Wastewater treatment plants or septic systems may not remove many medicine compounds. Turning over these medications at Take Back Day events also reduces the risk of accidental poisonings by children, seniors or pets, as well as reduces the risk of drug abuse," the release on the website stated.
The Attorney General's Office also partners with local law enforcement to host take back events at mobile offices around the state.
Rutledge is partnering on the Prescription Drug Take Back with the Arkansas Department of Health, Arkansas Department of Human Services, Arkansas National Guard, Arkansas Rotary Clubs, Arkansas State Board of Pharmacy, FBI, Office of the State Drug Director, U.S. Drug Enforcement Administration and over 130 additional law enforcement and government agencies, community organizations and public health providers, according to the release.