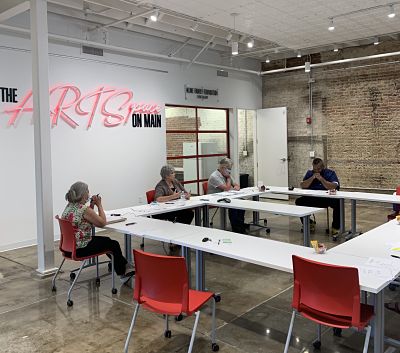 The Pine Bluff Advertising and Promotion Commission Finance Committee met for their monthly meeting on Monday, August 23 at the Artspace on Main Street. The committee discussed various financial reports for the A&P committee and the Civic Auditorium Complex Commission which covers the Convention Center.
Led by Dr. Glen Brown Jr., the committee mentioned a few concerns regarding balancing the budget at the convention center. In the past, the committee covered half of the center's yearly expenses. Since the pandemic of 2020, the expenses at the convention center have doubled, specifically personnel expenses, while revenue has decreased.
A&P also considered reducing the financial support to the Convention Center by 15-20%. The committee agreed to continue to discuss this as it moved forward. A draft proposal of the 2022 budget was also on the list of topics that the committee intends to finish and vote on early as the last months of the year rollout. 
New business on the agenda included the resolution supporting the Delta Rhythm and Bayous Cultural District that was approved earlier this month at the City Council meeting. A&P discussed partially funding this project over a seven-year period and moved the resolution to the main A&P Commission Committee meeting on Wednesday, August 25 at 4 pm.
Saracen Casino announced its willingness to partner with A&P to use tax revenue from the casino towards the project. William Moss , who is enthusiastic about the project, told the committee what he thought they should do moving forward.
Before the committee can endorse this idea, the Advertising and Promotion Commission meeting will be held at the Artspace on Main Street on Wednesday, August 25 to make the final decision.