A Trio In Double Figures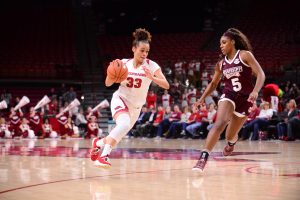 FAYETTEVILLE, Ark. – Chelsea Dungee, Alexis Tolefree and Taylah Thomas all scored in double figures, but it was not enough for the University of Arkansas women's basketball team to stop No. 7 Mississippi State in a 93-69 loss to start Southeastern Conference play on Thursday.
Dungee paced Arkansas (11-4, 0-1 SEC) with 25 points hitting 10 field goals and going 4-for-5 from the line. Thomas posted a career-best 15 points on a 6-for-7 performance and led the team with nine rebounds while Tolefree scored 11 points for the Razorbacks.
Mississippi State (13-1, 1-0 SEC) had four players in double figures and their size hurt Arkansas in the paint. The Bulldogs grabbed 57 rebounds and scored 62 points inside.
The Razorbacks won the fourth quarter for the 12th time this season. Arkansas outscored State 28-20 in the final frame and grabbed more steals (8-6) and had fewer turnovers (10-13) than the Lady Bulldogs.
Notes
•Arkansas Starters: Alexis Tolefree, Malica Monk, Kiara Williams, Jailyn Mason, Chelsea Dungee
•Miss State's 28 first quarter points are the most allowed in that frame by the Razorbacks this season.
•Chelsea Dungee had 12 first quarter points. It is the fourth time she has scored in double figures in a quarter.
•Dungee finished with 25 points. It is her 13th game of the season in double figures and her ninth with 20 or more points.
•Arkansas won the fourth quarter for the 12th time this season.
•Sophomore Taylah Thomas had a career-high 15 points … It is her fourth game in double figures.
Up Next
The Razorbacks travel to Ole Miss (6-9, 0-1 SEC) on Sunday as SEC action continues. Arkansas remains on the road at Missouri on Jan. 10 before returning to Bud Walton Arena hosting Vanderbilt on Jan. 13.
by: Jeri Thorpe